Party Rentals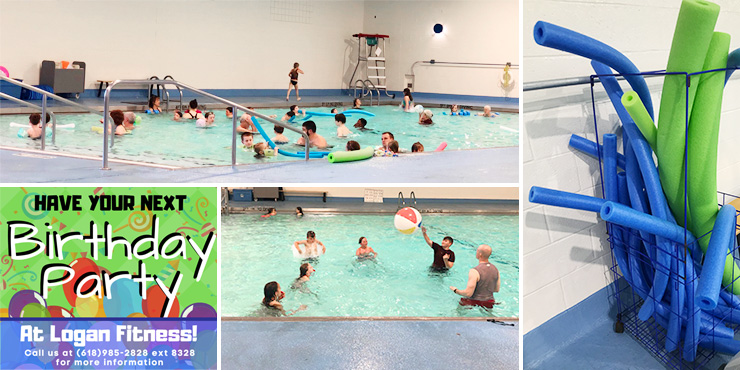 Party rentals are now available in the aquatic center!
Logan Fitness Pool Party Information
Party rentals are available on Saturdays between 1-6pm and Sundays between 12-6pm. Rentals may be available outside of these time ranges upon request and for an additional fee.
Rental includes the therapy pool, the lap pool, and a classroom used for party business.
The cost for a party rental is $125/hour, and parties may be reserved in increments of two or three hours. Longer reservations may be available upon request and for an additional fee.
Party setup may begin 30-minutes prior to the reserved starting time.
If using the classroom, parties must begin in the aquatic center and end with one hour in the classroom.

2-hour parties will start with one hour in the pool, followed by one hour in the classroom
3-hour parties will start with two hours in the pool, followed by one hour in the classroom
If you choose not to utilize the classroom, the pool may be used for the entirety of the rental

A 15-minute grace period will be allowed after the end of the rental time to finish cleaning and removing items. If use of the room exceeds past 15 minutes after the reservation time, an additional fee of $50 shall be assessed per half hour. It is recommended that cleanup/teardown begins before the end of the reservation time.
To begin the party rental process, Logan Fitness requires the completion of our Party Rental packet and contract. These may be picked up at the fitness desk, or you may download a copy of the party rental packet and contract HERE. Please turn in completed packets to the staff at the fitness desk. You may also e-mail a completed packet to loganfitness@jalc.edu. Once a completed packet has been turned in, Logan Fitness staff will contact you within 72 hours to confirm that it has been received and remind you of payment if needed. To call and make payment over the phone, or for additional questions, contact Logan Fitness staff at (618) 985-2828 Ext. 8502.
Party Rental Rooms
Our pool parties include access to both pools in our aquatic center and room J224. We will have lifeguards on duty for your safety and a Logan Fitness staff member will be present to assist you with anything needed. The aquatic center has pool equipment available for your guests and the party room upstairs has tables and chairs for presents/food/cake/etc. This room can be decorated with your party's theme, but we request that you return the room to its original condition once the party is completed. Please note that our fitness center will remain open and actively in use during this time. As you transition between the pool and the classroom, you will see and pass by patrons who are present to utilize the fitness center. We ask that you please be respectful of all users of the facility.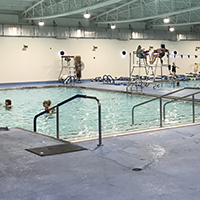 Therapy Pool – Our therapy pool is a perfect place for your pool party to begin! This pool is 68'x39' and is kept at approximately 92 degrees. Your party guests will love this pool to relax and play in! We have beach balls, pool noodles, and other miscellaneous pool toys available for use during parties. Handicap access if available via chairlift.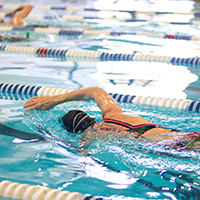 Lap Pool – Our lap pool is 25 yards in length and includes 8 lanes. The temperature is kept at approximately 82-83 degrees. The front portion of the pool is 3.5 feet in depth and the back portion of the pool is 10 feet in depth. It includes diving platforms on the deep end and also handicap access via a chairlift. Children 18 and under will need to pass a swim test with our lifeguards and get a wristband to show they can swim in this pool. We have swim fins, belts, paddle boards, and other equipment available for use during parties.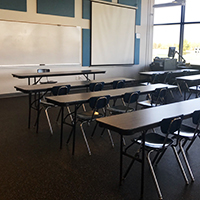 J224 classroom/party room – J224 is a great spot in Logan Fitness to enjoy food or drinks with your guests after all of their swimming. If you are having a birthday party, it is a great place for opening gifts. It can seat about 40 people comfortably. This upstairs room includes large windows with a beautiful view of the JALC campus, and a second adjacent room can be rented for an additional fee.
Pool Party Contract
Renter has inspected the pool and party room and accepts the use of these areas "as is". Renter agrees to indemnify and hold harmless John A. Logan College and Logan Fitness from any claims of any kind, including but not limited to attorney's fees arising from the use or occupation of the pool and party room by the Renter, Renter's guests, invitees, agents, employees, or any independent contractors working for the benefit of the Renter. Renter further agrees to comply with all applicable ordinances and laws.
The Renter shall find the pool and additional party room to be clean and in a safe condition and hereby agrees to leave said pool, party room and surrounding areas adjacent to the pool and party room in a clean and safe condition. The Renter also agrees to abide by all rules and regulations for Logan Fitness and those that are listed below and made part of the contract. The Renter is responsible for damage to the pool, the party room and the surrounding areas around the pool and party room.
These rules are incorporated into this contract and by signing this contract the Renter is agreeing to all stipulations. In the event JALC/Logan Fitness learns that the Renter intends to violate said rules, it reserves the right to cancel this contract and return all payments made to the Renter without further liability.
**Patrons must be at least 21 years of age to sign pool contract
**No function will take place without adult supervision
**Person who signs this contract must be present for function unless approved by Staff
**Logan Fitness staff will contact you within 72 hours to confirm your reservation date/time
**Once a reservation is confirmed via email, any cancelation made prior to 48 hours before the start of the rental time shall receive a 50% refund. Any cancelations made within 48 hours of the start of the rental time shall not be refundable.
**NO FOOD OR DRINK is allowed in the aquatic center, with the exception of bottled water (no glass allowed).
**Patrons signing the rental agreement will also be asked to read and sign a Photo Release Form.
Aquatic Center Rules
Admission to the swimming facility shall be refused to all persons having any contagious disease, infectious conditions such as colds, fever, ringworm, foot infections, skin lesions, carbuncles, boils, diarrhea, vomiting, inflamed eyes, ear discharges, or any other condition that has the appearance of being infectious. Persons with excessive sunburn, abrasions that have not healed, corn plasters, bunion pads, adhesive tape, rubber bandages or other bandages of any kind shall also be refused admittance. A person under the influence of alcohol or exhibiting erratic behavior shall not be permitted in the swimming facility.
The pool water is not suitable for drinking. Patrons should avoid swallowing pool water.
Littering is prohibited. No food, drink, gum or tobacco is allowed in other than specified designated and controlled sections of the swimming facility. Glass containers are prohibited.
Personal conduct within the swimming facility shall not jeopardize the safety of self and others. No running or boisterous or rough play, except supervised water sports, is permitted.
Persons less than 16 years of age must be accompanied by a responsible person 16 years of age or older unless a lifeguard is present.
Spitting, spouting of water, blowing the nose or otherwise introducing contaminants into the swimming facility is not permitted.
Glass, soap, or other material that might create hazardous conditions or interfere with efficient operation of the swimming facility shall not be permitted in the swimming facility or on the deck.
Parents or guardians should supervise their children.
All children who are not toilet-trained shall wear tightly fitting disposable swim diapers.
Caution shall be exercised in the use of the diving facilities.
All persons are encouraged to take a shower before swimming.
Only clean footwear, baby strollers or wheelchairs are allowed in the swimming facility.
All apparel worn in the swimming facility shall be clean.
Flotation devices shall not be allowed unless they are shown to be Coastguard certified.