Executive Leadership
Stacy Buckingham, Vice-President of Business Services and CFO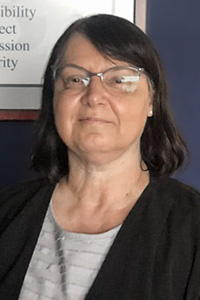 Stacy first started at John A. Logan College as a student earning her Associate of Science degree, and transferred to SIU Carbondale to earn her Bachelor of Science degree in Accounting. After beginning a full-time position here at the College, she returned to SIU on a part-time basis to obtain her Master's in Business Administration. Stacy is in her 33rd year of working for John A. Logan College, and is currently the Vice-President of Business Services and CFO. In addition to the areas of Information Technology, Purchasing, and Scheduling, she oversees the functions of the Business office and the Bursar office which include financial reporting, preparing the budget, the annual audit, accounts payable, grant reporting, student billing, student refunds, financial aid disbursement, Payroll, and employee benefits. Stacy says she is grateful for the opportunities and support that John A. Logan has provided for her family.
---
Dr. Melanie Pecord, Provost
Dr. Melanie Pecord has been the Provost (formerly Vice President for Instructional Service) since July 2016. Dr. Pecord began her career at John A. Logan College in 1994 as an adjunct faculty teaching Business and Computer classes. In 1996 she was hired as a full-time Computer Information Systems (CIS) faculty. In July of 2010, Dr. Pecord became the Business Department Chair, and in October 2015, she was appointed as the Dean for Academic Affairs.
Dr. Pecord has a Bachelor's and Master's degree in Workforce Education and Development from Southern Illinois University at Carbondale and an Ed.D. in Educational Leadership from Oakland City University. She has years of training experience in business and industry and has collaborated with community organizations on computer projects, web design, automation of files, and training.
Dr. Pecord played a key role in creating a Networking program that would later evolve into a Computer Forensics/CyberSecurity program. She was instrumental in helping the college become one of the two CAE designations in the State of Illinois. She advocates for teamwork and collaboration and works hard to remove silos and barriers in the workplace.
Dr. Pecord has as received the following awards over her career; Phi Theta Kappa Distinguished College Administrator of the Year, 2019; John A. Logan College Trailblazing Women's Award, 2017, Illinois Business Education Association Supervisor/Administrator of the Year, 2012; Phi Theta Kappa Upsilon Pi Chapter Honorary Member, 2011, Illinois Vocational Association Outstanding New Vocational Teacher Award, 1998.
Dr. Pecord was born and raised in Marion and has raised her family there too. She is married to Jeff and has three children and one grandchild.