Office of the President
Dr. Kirk Overstreet, President of John A. Logan College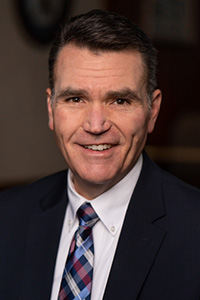 Kirk Overstreet, Ph.D., serves as President of John A. Logan College. Dr. Overstreet holds a Doctor of Philosophy degree in Organization Development from Benedictine University, a Master of Arts degree in History from Ball State University, and a Bachelor of Arts degree in History from North Central College.
President Overstreet has served in higher education positions since completing his Master's degree in History in 2004. Before coming to John A. Logan, he served in serval roles in higher education, including Assistant Provost of Instruction at the College of DuPage, administrative positions at the University of Illinois at Chicago, and a senior leadership member in a private post-secondary institution in Chicago. Until 2017 he served as an adjunct instructor of history at Lewis University. Before his work in higher education, Dr. Overstreet spent 15 years in the electrical construction industry as a Journeyman/Lineman. These formative years have helped guide his work with the community college mission of education and career training.
His credo is to be a leader who is "Thoughtful, Reflective, and Intentional."
Dr. Overstreet is a first-generation student who started at a community college, left, and rebooted his educational pursuits at a community college—giving him a deep understanding of the many issues that our students face in their pursuits in higher education. Overall, his work has focused on providing quality educational opportunities to the community by leading change through inquiry, collaboration, and innovation.
---
Susan May, Director of Legislative Affairs and Special Assistant to the President & Board of Trustees
Susan May is the Director of Legislative Affairs and Special Assistant to the President and Board of Trustees. She is a graduate of John A. Logan College and holds a Bachelor's Degree in Business Administration from Mid-Continent University.
Mrs. May started at John A. Logan College as a student worker and was then hired full-time as the secretary to the Director of Development and JALC Foundation. After four years, she left the College to raise her family. In 2002, Mrs. May returned to the College as the secretary to Department Chairs and worked within the Instructional Division for over ten years. She also worked in the Office of Payroll and Benefits and has served in her current position since 2016.
Mrs. May resides in Marion with her husband, Shannon. They have three children and eight grandchildren.
---
Carmen Cutsinger, Senior Executive Assistant
Carmen Cutsinger is the Senior Executive Assistant to the President. She began her career at JALC in 1999 in the Student Success Center, and then moved into the Vice-President for Instruction Office. She moved to her current position in the President's Office in 2021. Carmen and her husband, Chris, have two daughters and three grandchildren.