Classes
Register or View Classes Here
*You do NOT have to be a member or JALC student to enroll in classes at Logan Fitness!
Logan Fitness is proud to offer over 35 fitness and aquatics classes to the community. You do not have be a JALC student or have a membership in order to enroll in a Logan Fitness class. SilverSneakers members may enroll for FREE in classes that have "SilverSneakers" in their title. Non-SilverSneakers members may also enroll in these classes, but will simply have to pay the class fee.
Fall classes will typically open for registration in July and begin in mid-August.
Spring classes will typically open for registration in December and begin the second week of January.
Summer classes will typically open for registration in May and begin the first week of June.
A select few classes are typically also offered during the "intersession" periods in between each semester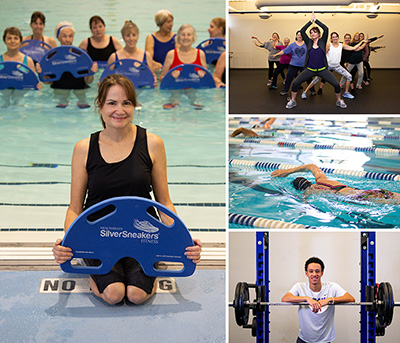 Most Logan Fitness classes are broken into 8-week blocks. Spring and Fall semesters, which are usually about 16 weeks in length, will include both an A (first-half) and B (second-half) section of each class. Students who sign up for both halves simultaneously at the beginning of the semester will receive a 10% discount. Unfortunately, our registration system does not recognize discounts online, so registration must be done in-person or over the phone in order to receive the 10% discount.
*Patrons must be at least 15 years of age to sign up for a Logan Fitness class, with the exception of youth swim lessons or youth camps. Children aged 6 months-3 years old may enroll in our Parent/Tot classes. Children aged 3+ may enroll in private swim lessons. Children aged 4+ may enroll in our group swim lessons. See course descriptions for more information on each specific class.
On the Phone – call Logan Fitness at (618) 985-2828 ext. 8502 or 8328 to complete a credit card transaction over the phone. This is available during any open hours of operation.
In-Person – Cash, check, or card transactions are all available at either the Membership Services office or the Fitness Center Check-in Desk. This is available during any open hours of operation.
Need More help?
Contact Logan Fitness
Phone: (618) 985-2828 Ext. 8502 or 8328
Email: loganfitness@jalc.edu
Click here for additional Logan Fitness contact information.
Logan Fitness has 2 pools, 2 fitness rooms, and one classroom where the majority of our classes are held. Logan Fitness also hosts a few online classes through Zoom. These classes are indicated with a section number that ends in "Z". We also offer a few "hybrid" classes, where some students can participate in-person while others are logged in and participating simultaneously online. These classes are indicated with a section number that ends in "H". Logan Fitness also occasionally partners with outside groups to host classes in off-site locations.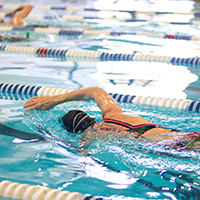 Lap Pool – Located in the aquatic center, the lap pool is 25 yards in length and includes 8 lanes. The temperature is maintained at approximately 82-83 degrees. The front portion of the pool is 3.5 feet in depth and the back portion of the pool is 10 feet in depth. This pool includes handicap access via ADA steps or a chair lift. A few examples of classes offered in this pool include Advanced Swimming, Aqua Cross Fitness, Aqua Toning & Aerobics – Shallow, Aqua Toning & Aerobics – Deep, Aqua Zumba, Inclusion Aquatics, Competitive Youth Swimming, and Level 3 Intermediate Youth Swim Lessons.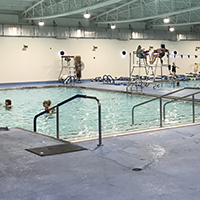 Therapy Pool – Located in the aquatic center, the therapy pool is maintained at approximately 92 degrees. The depth of the pool ranges from 2.5 feet to 5 feet. This pool includes handicap access via a chair lift. A few examples of classes offered in this pool include Arthritis Aquatics (SilverSneakers Splash), Aqua Stretching & Toning, Post-Injury Aquatic Strength & Conditioning, Parent & Tot Swim, Beginner Level 1 Youth Swim Lessons, and Beginner Level 2 Youth Swim Lessons.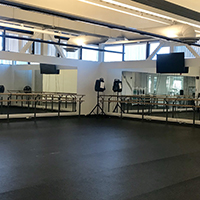 J120 – Room J120 is located in the downstairs portion of the fitness center and is our largest fitness studio classroom. This space holds approximately 20 students and includes both mirrors and ballet bars. A large variety of equipment is also available including dumbbells, elastic bands, body balls, body bars, yoga blocks, steps, padded chairs, and more. A few examples of classes offered in J120 include Beyond the Barre, Body Sculpt, Boot Camp, Get in Shape!!!, Intermediate Yoga, SilverSneakers BOOM Move It, SilverSneakers Circuit, SilverSneakers Classic, SilverSneakers EnerChi, Spinning, Stretching & Toning, Total Body with Abs, Yoga, and Zumba.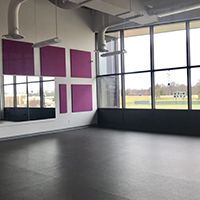 J222 – Room J222 is located in the upstairs portion of the fitness center. This space holds approximately 16 students. A variety of equipment is available including dumbbells, elastic bands, yoga blocks, padded chairs, and more. A few examples of classes offered in J222 include Pound, SilverSneakers Stability, and SilverSneakers Yoga.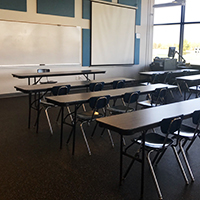 J224 – Room J224 is a classroom located in the upstairs portion of the fitness center. This space holds approximately 35 students and is used for a wide variety of instruction and training.
*Need to rent a space? These locations are all available for rent during certain days and times. For rental inquiries, contact loganfitness@jalc.edu.
Online Catalog
Kelli Abell
Kelli has worked at Logan Fitness for over 10 years as a Zumba instructor and fitness desk worker. She is a lifelong Carterville resident and you will sometimes see her practicing her Zumba routines in the hallway while working at the check-in desk. She brings high energy and has a lot of fun with her Zumba participants!
---
Margaret Anderson
Margaret became certified in Zumba® Fitness in 2017 and absolutely loves teaching. She is licensed in Zumba® Fitness and Zumba® Step and enjoys it because she believes that dancing is a fun way to relieve stress while enhancing a healthy lifestyle. Margaret enjoys all types of Zumba music, especially salsa, reggaeton, cumbia, dancehall and belly dancing. Margaret enjoys salsa/bachata dancing in her spare time and likes to travel going to different Latin dance socials and congresses. She has a Master of Science in Forestry from SIU and is a full-time natural resource conservationist. Whether you're a beginner or long time Zumba dancer, stop in to one of Margaret's cardio fitness dance classes to "ditch the workout and join the party"!
---
Susan Bausch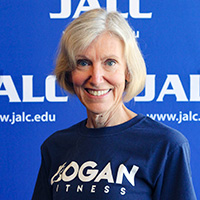 Susan Bausch has been a Registered Yoga Teacher with the Yoga Alliance since 2012. She started teaching yoga at John A. Logan College in January 2013. She very much enjoys teaching in person at Logan Fitness as well as online. Susan's goal at Logan Fitness is to teach students a full body workout without injury. Most of Susan's current Logan Fitness students have been taking her courses for at least five years. Susan continues to take workshops and trainings on a regular basis. She has expanded her teaching to include a Tai Chi-influenced course (Taming the Chi) and a dance-influenced course (Beyond the Barre). All of Susan's Logan Fitness courses are influenced by her decades of dance training.
---
Ann Bowsher
Ann serves as a do-it-all instructor at Logan Fitness, teaching her own Arthritis and Deep Water Aquatics classes while also subbing for just about any class at the facility. Ann was a collegiate gymnast, dancer, and director of a YMCA gymnastics class and team program in the 80's. In June of 2021 she retired from a 30 year career as an elementary teacher and university counselor in Memphis, Tennessee, and relocated to Southern Illinois to be near family. Ann has been a yoga practitioner for the past 20 years, earning her teaching certificate in 2018. She now holds a 300 hour teacher certification through Yoga Alliance as well as SilverSneaker certifications in Splash, Stability, Classic, and Yoga. Ann's goal is to offer classes that are uniquely suited to her students' needs and goals, while helping them have fun and feel great about their accomplishments.
---
Carmen Burkett
Carmen Burkett is a graduate student at SIU finishing up a master's degree in Plant Biology. She loves teaching and working with students of all ages and abilities to increase their comfort and safety in the water while building on the skills they already have and having as much fun as possible.
---
Francesca Burkett
Francesca Burkett has been teaching at Logan Fitness since 2019 for both group and private lessons. She enjoys working with youth of all ages, focusing on basic skills for beginners and stroke critique and endurance for more advanced swimmers.
---
Gabriella Burkett
Gabriella is an undergraduate student at SIU and has worked at Logan Fitness since 2019, beginning as a lifeguard. Since then, she has transitioned to a swim instructor and she has successfully trained hundreds of children in improving their swimming skills. Gabriella teaches Beginner Level 1 group swim lessons and also works with many students one-on-one as a private swim instructor. She enjoys working with students of all ages and abilities, teaching water safety, basic swimming, survival skills, and stroke technique with a goal of helping students get more comfortable in their swimming ability while having fun in the process.
---
Christina Cannova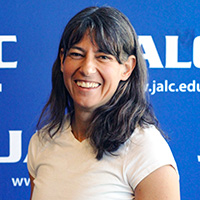 Christina has been a group fitness instructor and personal trainer at Logan Fitness since Spring 2021. Her 5:30am Body Sculpt class is one of the most popular courses at Logan Fitness and typically sells out all spots. Christina does a great job helping her clients and students push themselves to reach the next level!
---
Leslie Cichocki
Leslie is a 1X ParaPan American gold medalist/champ 2015 in 100M backstroke, 1x ParaPan American silver medalist 2019 in 100M Butterfly, and 3x ParaPan American bronze medalist in 200M freestyle, 200M IM in 2015 and 100M backstroke in 2019. She is also a 1x Paralympian. She was the first swimmer with an intellectual disability to represent team USA at the Rio Paralympics. In the past, Leslie has given group swim lessons at Superior Training. In 2016 after the Paralympics, she got to meet and shake hands with President Obama, his wife Michelle and Vice President Biden. Leslie also holds numerous American records in long course meters, short course meters and short course yards. Her hobbies are fishing, hanging out with family and friends, playing with her dog, and bowling.
---
Courtney Dawson
Courtney Dawson says that she started spinning in 2019 to sweat for her wedding, with that quickly turning into a very fond love for spin. She wanted to become an instructor that could lead a class to her music and moves. She got certified in 2020 and has been coaching ever since! She moved here with her family in 2021 and she began teaching at Logan Fitness that fall semester. Courtney has a ton of fun in her class, working out legs, abs, and arms. She even encourages her class to dance to the music on their bikes! It's a great class for all ages, fitness levels, and those who need a class setting to encourage attending! She likes to spend her free time with her husband, and four fur babies – a cat and three dogs. You can also find her walking the dogs or biking through Carterville. Come give Spinning a try!
---
Karen Frick
Did you know that Karen attended one of the first water classes in 2004 as a student swimmer when the John A. Logan aquatic center pool first opened? During that time, she took several swim classes and fell in love with water exercise. She took a few years off when her children were little and got back into water exercise, teaching Shallow Aerobics at the Carbondale Life Center pool. She started teaching at Logan Fitness in the aquatic center pool for the summer 2021 semester. She is a firm believer that water exercise is one of the best exercises you can do. It is a low-impact form of exercise and you can exercise every part of your body and not injure yourself. Karen teaches her classes with the following elements: warm up, low cardio exercises, ab exercises, and finishing with cool-down stretch activities. Her specialty is targeting every part of the body when doing cardio and stretch exercises.
---
Debbie Fosse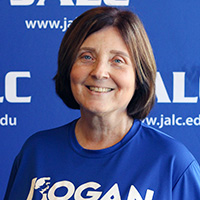 Debbie has over 25 years of experience in leading many different classes in group exercise. She loves working with all types of people which led her to get her personal trainer certification to work with individuals in an aquatic environment. Her Certifications include: Group Fitness Exercise Instructor-Athletics and Fitness Association of America, SilverSneakers Fitness Instructor, Chair One Fitness Instructor, Aquatic Group Exercise Instructor-Aquatic Exercise Association, FITOUR Personal Trainer, and MS Aquatic Instructor National Multiple Sclerosis Society.
---
Shannon Griffin
Shannon is a Meditation & Mindfulness teacher & Philosophy Instructor based in Southern Illinois. She earned her M.A. in Philosophy from Southern Illinois University and is a certified Meditation & Mindfulness teacher through the School of Positive Transformation. She has also been a student & practitioner of meditation & mindfulness for over two decades.
---
Kassi Jones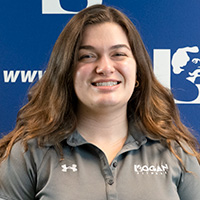 Kassi first joined the Logan Fitness team in January 2020 as an aquatic intern. Once her internship was complete, she served as a lifeguard, aquatics instructor, and lifeguarding instructor for just over a year before being hired full-time as the Coordinator of Logan Fitness. Kassi currently teaches Lifeguarding, Competitive Youth, and Aqua Cross Fitness. She has over 10 years of experience teaching and coaching swimming and is a certified Lifeguard Instructor, Waters Safety Instructor, and Personal Trainer.
---
Greg Kupiec
Greg first got involved with aqua aerobics after he fell off his ladder in 2016 and needed a class to help him with injury recovery. He has since then added Arthritis classes into his exercises. All three of his instructors have taught him a lot about how to teach aqua exercise classes, and after substituting on multiple occasions, he was encouraged to apply to teach the Post-Injury Strength & Conditioning class himself. He is very happy to be an instructor for this service that has helped him with his range of motion and freedom of movement. It is Greg's hope to help others in need. He will use exercises that he has learned throughout the years and hopes that they will increase flexibility and reach with less restriction in his student's movement. He just wants to have FUN in his class!
---
Linda Kuykendall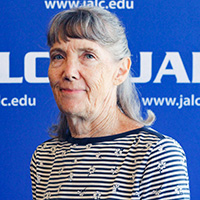 Linda is retired from a long career in education. During that career, she primarily taught special education for the mentally handicapped (her first love), but has taught all grades at one time or another, substitute taught for thirteen years and ended her education career teaching kindergarten in a mission bilingual school in Honduras for two years. When she and her husband returned to his "home" in Johnson County, Illinois in 2003 she became an Aqua Aerobics instructor in Vienna for fourteen years. Upon returning from Honduras in 2019 she began instructing and substituting at The Hub and still continues with two classes one day a week. In the fall of 2022 she was pleased to come on board at JALC Fitness as a substitute in the Aquatics program and is looking forward to teaching her own class in the Spring Semester as well as continuing to substitute. Along with the other aquatic instructors, Linda finds that water exercise is one of the best exercises for your body, no matter what your age. Linda targets all parts of the body with cardio, arm and ab work and the most important part – stretching- for each individual at their own level. She also believes it should be fun and considers each of her students as a part of a "family".
---
Fae Ragan
Fae Ragan was born and raised in Miami, Florida in the 1960s and 70s. She competed in 5 varsity sports at Southwest HS and still had time to be a frequent beach-goer. Fae attended SIU-C on a volleyball scholarship and also competed in intercollegiate badminton. She student-taught at Carbondale HS. Upon completing her undergrad degree in physical education, she was hired to coach volleyball at Carbondale HS while working on her master's degree. Upon completing her master's degree in physical education, Fae was hired in 1986 as head volleyball coach, assistant softball coach, academic advisor, and health instructor at John A. Logan College. Fae has retired from full-time teaching and coaching at John A. Logan but still teaches fitness class part-time at Logan Fitness. Fae teaches SilverSneakers Classic, Circuit, and Yoga. These classes are geared to the level of fitness her students need and can accomplish. SilverSneakers classes utilize dumbbells, therapy bands, balls, chairs, and do not require being on the floor. One bonus is that the classroom at Logan Fitness has mirrors and ballet bars for her students. She also teaches Stretch & Toning as a hybrid class, which is taught via ZOOM and in person at the same time! This class requires the student to be on the floor to stretch as well as standing stretches. Fae uses a broad spectrum of fitness styles and therapeutic exercises for her classes, she uses methods such as yoga, Pilates, and Feldenkrais. Emphasis is on core strength, balance/stability, muscular strength/endurance, cardio fitness, body composition, and flexibility. Excellent facility equipment allows for a great variety for fitness activities. A typical class may start with 15 minutes of footwork followed by standing stretches or standing yoga routines. Next up would be incorporating a giant therapy ball for balance and core development, finishing on the floor to do abs and core routines. Outside of her fitness classes at Logan Fitness, Fae Ragan also coaches volleyball at Carbondale high school, Carbondale middle school, and SMASH volleyball Academy.
---
Kristina Reid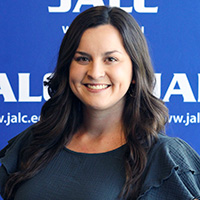 Kristina's interest in fitness and teaching was sparked in 2015 while she was attending JALC working towards an associate's degree in Psychology. She has been consistent with going to the gym ever since. Kristina started her own fitness journey with a class and made a goal for herself to one day teach a class of her own. She strives to create an enjoyable atmosphere in class while everyone is working towards their own individual fitness goals. She loves teaching class and enjoys meeting new people along the way!
---
Debby Reimer
Debby Reimer is a certified Pound Pro and teaches our Pound class at Logan Fitness. Outside of her full time "day" job, she has been teaching Pound since 2017. She is not your typical fitness instructor and Pound is certainly not your typical fitness class. She considers her students as her friends and loves the interaction they create as they rock out to some fabulous choreography; squatting, lunging, laughing, & sweating their way through the set list with 1/4 lb weighted drumsticks. Most of the moves can be modified to fit anyone's intensity level and she is happy to help her student's find that level. She is excited to meet her class each week and help all of her student's, new and continuing alike!
---
Nicole Rossi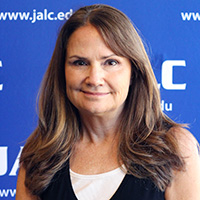 Nicole Rossi has taught aquatic classes at JALC since 2004. Currently, she teaches arthritis aquatics in the therapy pool. Her classes focus on cardio, strength, flexibility, and balance. Nicole incorporates aqua dumbbells, boards, noodles, and hand weights into the workout routine of the class. Most importantly, Nicole wants her participants to have fun, because if you don't enjoy the workout, you'll probably stop working out. She believes group exercise classes motivate you to work harder and improve your mental health through the additional social interaction. The results she has witnessed from her participants throughout the years inspire her to continue teaching.
---
Becky Salazar
Becky works with older adults and caregivers in the community and is certified to teach several classes geared for senior citizens. She has offered both Matter of Balance and Bingocize at Logan Fitness for seniors, and also teaches Body Sculpt as a higher intensity class for any adults. Becky is passionate about all forms of exercise, participates in a variety of activities, and can often be found working out at Logan Fitness.
---
Fallon Scillufo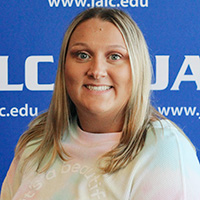 Fallon has always enjoyed swimming, so it was a natural decision to continue swimming right into her job as an instructor at Logan Fitness. Fallon has a lot of experience with competitive swimming: she was a member of the Herrin Tigersharks' swim team from age four to eighteen. For 5 years, she coached the Tigersharks' swim team age 6 & under swimmers. For four years, she taught private and group swim lessons at the Carbondale Life Center. She coached the Carbondale Cyclones for a summer during that time also. She has been a lifeguard since she was 16 years old and has been a lifeguard at the Herrin Pool and Logan Fitness. Fallon is also in school, pursuing a degree in early childhood education at SIU. She loves teaching swim lessons and loves watching her student's grow and learn.
---
Marcia Skinner
Marcia Skinner is a licensed PTA employed by the Orthopaedic Institute of Southern Illinois. She has been teaching "Post-Injury Aquatic Strength & Conditioning" at Logan Fitness since 2016. She loves to help her students improve physically while also promoting a fun environment!
---
Cathy Small
Cathy Small has taught Yoga off and on for many years and continues to do yoga and teach yoga for her overall health. She invites students of any and all levels to her class and hopes that she can encourage a relaxing class atmosphere while keeping the pace of the class moving. She hopes to show her student's postures that will help them with their balance and movement but also relieve some of the stress everyone deals with in their day to day life.
---
Luke Snider
Luke Snider began teaching at Logan Fitness in 2022, but has has been a long-time friendly face at Logan Fitness as a lifeguard since 2017. He is currently a student at Southern Illinois University pursing a History Education degree. He has a total of 6 years of lifeguard experience and has swam in the past competitively for 8 years. Luke also occasionally coaches basketball and in his free time he enjoys being outdoors and working on his overall fitness. He is very excited to be instructing the competitive youth class!
---
Ashley Stevens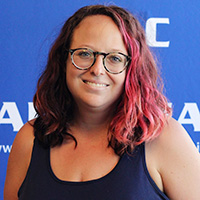 As far back as Ashley can remember, she has loved the water. At 16, she got lifeguard certified and water safety instructor certified. All throughout high school and college she taught swim classes. After being a stay at home mom to 2 boys for 10 years, she got the opportunity to come back to work and further her career in aquatics instruction. She got her SilverSneakers Splash certification through Logan Fitness and trained to teach aqua yoga and aqua stretching & toning. She continues to teach the parent & tot swim classes and believes it's very important to get kids in the water early in their life! During her free time, she loves spending time outdoors with her family.
---
Jennifer Suthard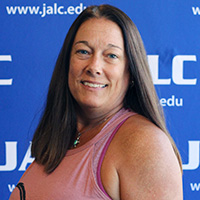 Jennifer joined the Logan Fitness team in 2018 teaching for faculty, staff, and students at all levels. She currently teaches the Interval Training and Total Body with Abs classes. Jennifer has been in the fitness industry since 2007, teaching various formats such as Zumba, Interval Training, Strength Training, Aqua fitness, Stretching, and more!
---
Jean Szidik
Jean first began teaching fitness and aquatic classes at SIUC as a graduate assistant. She then taught for 10 years at Delta Health and Wellness, followed by 10 years here at JALC, and most recently for 8 years at the Hub Recreation Center. She is excited to be back at John A. Logan College. Jean holds a B.S. degree in Exercise Science and an M.S. degree in Sport Management. She is a sap for animals and children and has been known to jump off a boat to swim with the dolphins.
---
Cheryl Thomas
Cheryl Thomas has been a John A. Logan College employee for over 25 years. Although she is new to teaching fitness classes, she has been teaching anatomy & physiology classes for many years. She loves to combine her knowledge of the human body with her love of fitness. Cheryl is an avid runner, who like to include strength training in her fitness routine. She believes fitness should be fun & challenging in order for students to stick with it.
---
Jennifer Williams
After growing up in Dallas, Texas, Jennifer Williams spent 33 years in New York City and has recently made her home here, in Carterville, Illinois. Jennifer danced professionally with the New York City Ballet for 18 years, the last 9 years at the esteemed rank of Soloist. This was the fulfillment of Jennifer's childhood dreams. After retiring from the stage, Jennifer has continued to work as a ballet teacher, dance educator, choreographer and more recently, as a Pure Barre instructor. Jennifer is passionate about encouraging people to keep moving to music, no matter their age or ability. Jennifer believes in the power, motivation and fun of group instruction, with all of the energy and socialization and accountability that it brings. For private lessons, Jennifer will draw on her ballet experience and barre fitness training to create a workout that will be especially beneficial for posture, balance, flexibility, shaping and toning. Jennifer is excited to be joining the JALC Fitness Center community and looks forward to seeing you in the studio!