Contact Us
John A. Logan College – Logan Fitness
700 Logan College Drive – J Building
Carterville, IL 62918
Phone: (618) 985-3741 General Information Ext. 8328 – Member Services Area Ext. 8502
Email: loganfitness@jalc.edu

Check us out on social media!
Facebook, Twitter, Instagram
---
Staff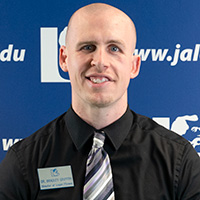 Dr. Bradley Griffith
Director of Logan Fitness
Education:
Associate's of Applied Science – Business Management; John A. Logan College
Bachelor's of Science – Recreation, Sport & Tourism; University of Illinois
Master's of Science – Kinesiology; Southern Illinois University
Doctor of Education – Higher Education; University of Arkansas Little Rock
Bio: Bradley is a lifelong Carterville resident and served as a student worker at JALC from 2008-2010 before beginning his full-time career at the College in 2014 as the Aquatic Coordinator. In 2015, he was named facility Director and he has worked in that role since. At John A. Logan, Bradley has served in various capacities including Chair of College Council, NIMS Coordinator, and Co-Chair of the Presidential Search Committee. Dr. Griffith was a winner of the 2020 Illinois Community College Administrative Leadership Scholarship for his dissertation work titled "Community College Stigma and Its Effect on Illinois High School Seniors' College Choice." Bradley also serves as a board member for the Illinois Community College System Foundation (ICCSF) and as Youth Leader at the Ridge Church in Carbondale, IL. He has been married to his wife, Courtney, since 2017 and they have two children, Landry and Garner. Bradley's hobbies include basketball, tennis, running, hiking, weight lifting, reading, and collecting sports cards.
---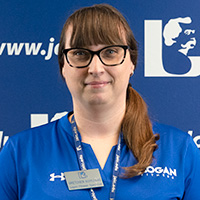 Gretchen Kohlhaas
Logan Fitness Specialist
Education:
Associates of Applied Science – Accounting: John A Logan College
President's List all semesters
Bachelor's Degree – COLA, Major in Theater, Minor in Art, Southern Illinois University Carbondale
Graduated Summa Cum Laude
Bio: Gretchen is a Murphysboro, IL native who attended SIUC after graduation, got married, and moved to Montgomery, AL for her spouse's theater job. They decided living far away wasn't for them and came back home to Southern Illinois and all of their many friends/family that live in the region. Gretchen worked at the Hobby Lobby in Carbondale for a few years before coming to JALC in 2008. 9 years later, after serving in the Financial Aid Office on main campus, she moved to Logan Fitness and absolutely LOVES helping her patrons and co-workers every day! She does her best to keep everything moving along behind the scenes and to solve every problem. She has the best husband – Seth, three children – Sylvia, Ronald and Isabel, and two dogs. She is a Girl Scout leader for both of her daughter's troops and she uses all of her time outside of work to serve her family and fix all of their problems too. Other hobbies include quilting, reading, gaming and (occasionally) walking, playing Just Dance with her kids or getting into the gym to work out or swim with everyone at Logan Fitness.
---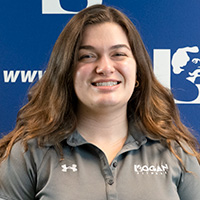 Kassi Jones
Coordinator of Logan Fitness
Education:
Bachelor of Science – Management; Southern Illinois University
Master of Science in Education – Recreation Professions; Southern Illinois University
Bio: Kassi first joined the Logan Fitness team in January 2020 as an aquatic intern. Once her internship was complete, she served as a lifeguard, aquatics instructor, and lifeguarding instructor for just over a year before being hired full-time as the Coordinator of Logan Fitness. In 2021, Kassi introduced the 100-Mile Swim Challenge to motivate people to stay active through swimming and completed the challenge herself. She was awarded the Patron Service Award in Spring of 2021 for her efforts at Logan Fitness. Outside of work, Kassi enjoys spending time with family and friends, weight lifting, swimming, playing video games, and staying caffeinated.
---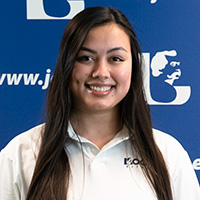 Sarah Carter
Aquatic Coordinator
Education:
Bachelor's of Science- Early Childhood Education; Southern Illinois University
Bio: Sarah is originally from Wilmette, IL. She came to Southern, IL to pursue her bachelor's degree at Southern Illinois University in Carbondale. While her background is in Education, she has always had a lifelong passion for fitness and a healthy lifestyle. She first came to John A. Logan to work as fitness desk worker, and shortly after started her full-time position as the Aquatic Coordinator. She is a Certified Pool Operator and Lifeguard. Sarah's hobbies include weightlifting, hiking, gardening, and swimming.
---