Fitness Center
Fitness Center Hours
| Days | Available Times |
| --- | --- |
| Monday-Friday | 5:30am – 8:30pm |
| Saturday | 5:30am – 6:00pm |
| Sunday | Noon – 6:00pm |
The Aerobic & Weight Training Center includes weight machines, free weights, dumbbells, a 1/16 mile walking track, 12 treadmills, 24 bicycles, 12 elliptical gliders, 2 stair climbers, and 2 rowing machines. Click on the "Membership" link on the right-hand side of this page to view membership options and pricing.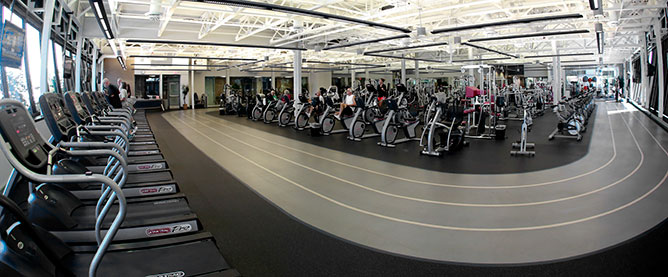 The Free Weight Room includes various dumbbells ranging from 5lbs to 100lbs, 2 Olympic lifting platforms, women's and men's barbells, 2 squat racks, a deadlift hex weight bar, 3 bicycles, 6 adjustable benches, a plyo box set, step exercise equipment, and plenty of room to practice anaerobic exercises.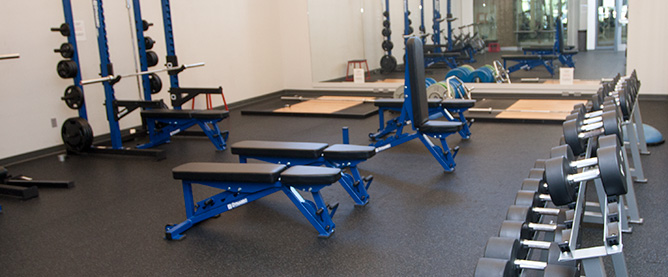 Dress Code: Users must dress properly in GYM clothes such as shorts, sweat pants, T-shirt, sweatshirt, soft sole indoor athletic shoes. Muscle shirts and shirts with buttons are not permitted nor are jeans shorts and other apparel which may be harmful to the equipment.
Attendance: Upon entering the center, the patron types in their ID number at the Check-In desk to log in. ID numbers will be given to you upon registration or can be obtained from the desk worker.
Lockers Rooms: Lockers, showers and saunas are available at Logan Fitness. To rent a locker for the entire semester, contact the front desk. Or a student may select an available locker and lock it up for the duration of your workout. Any locks left on an un-rented locker after 8:30 p.m. will be removed. John A. Logan College will not be responsible for lost or stolen articles.
Patrons may bring water in the Fitness Center. All other food and drinks are prohibited.
Violation of Logan Fitness or College policies may result in loss of facility privileges.
Credit Courses Offered:
Sign up for these classes through Admissions
Non-Credit Courses Offered: