Our Facilities
The Center for Workforce Development currently utilizes the Workforce Development and Construction Management Building and the John A. Logan College Conference and Education Center for business and industry training and retraining. When it comes to employee training, your business can expect the finest accommodations in classroom, catering services, various classroom seating styles, and additional equipment to meet your needs. You can contact us at cwd@jalc.edu.
If you are interested in using our facilities, please complete the request form and a member of our staff will contact you.
Facility Usage Request Form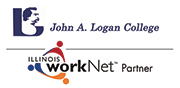 Illinois workNet is a valuable, no cost resource that provides career, education, and support information for all Illinois residents and businesses. To learn more about available programs and services, visit www.illinoisworkNet.com.