What's Happening at the Library
Announcements
"HELP! How can I return my library books?
Due to the COVID-19 pandemic, the Library will not be charging late fees. You can hold onto the items and bring them back whenever it is most convenient for you.
If you would like to return the books right now, you can put them in the blue Library Return Box in Parking Lot A.
Another option is that you can drop the books off at any local public library. We are all connected through the Illinois Heartland Library System. We also have interlibrary loan between the different colleges throughout Illinois.
Thanks!
Book Drop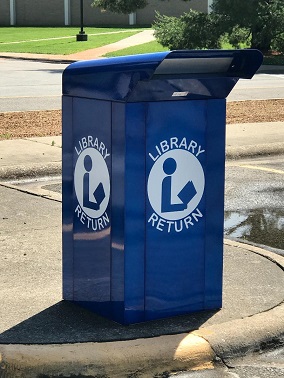 Library material may be returned in our book drops if The Library is closed. There are two book drops on campus; one in the Parking Lot A, and one just outside the east entrance to The Library.
CHECK US OUT!
Don't forget your mask, but do remember to come check out a library book!