Tyler Smithpeters Named NJCAA National Coach of the Year
Published on April 5, 2023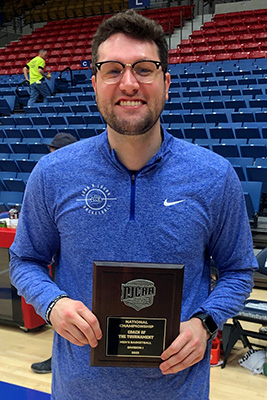 First-year John A. Logan College Men's Basketball Coach Tyler Smithpeters has been named the NJCAA National Coach of the Year. The NJCAA announced the news on Wednesday. Smithpeters guided the Volunteers to a 33-2 record, including 31 straight wins and the program's first National Title. Smithpeters was also named the Outstanding Coach of the National Tournament, The Region 24 Coach of the Year, and the Great Rivers Athletic Conference Coach of the Year.
According to John A. Logan College Athletic Director Greg Starrick, Smithpeter's positive demeanor was the key to the team's unprecedented success.
"Congratulations to Coach Smithpeters on this well-deserved honor. As a first-year head coach, his demeanor on and off the court and his relationship with his players was the recipe for success throughout this magical season," said Starrick.
In addition to Smithpeters, the NJCAA announced on Tuesday that Curt Lewis was named First-Team All-American and Quimari Peterson was named Second Team-All American.
Smithpeters is quick to give the credit to his team.
"This team believed that they could win a championship all season, and they played that way in every game. Every player on this team contributed, and our depth made the difference in the tournament."
Tyler Smithpeters is a native of Harrisburg, where he led the 2013 team to a state championship. He played collegiately for SIU, where he won the 2018 Missouri Valley Conference Sixth Man of the Year award. He spent four years on his brother Kyle's staff before being named Head Coach in June after Kyle Smithpeters accepted a job as an assistant coach for the Mizzou Tigers.