Former JALC Pitcher Playing for Team Italy in World Baseball Classic
Published on March 14, 2023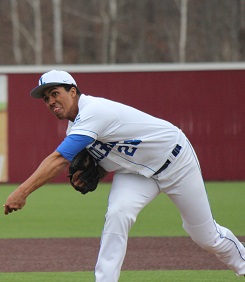 John A. Logan College Alum, Joey Marciano's road to the World Baseball Classic, plays out like a Hollywood script. Growing up in inner-city Chicago, he did not take up the game of baseball until high school. Despite having limited experience on the mound, John A. Logan College baseball coaches took a chance on the "Underdog" and real-life relative of former heavyweight boxing champion Rocky Marciano. At JALC, Marciano went 15-6 in 23 starts, striking out 175 while allowing only 38 runs. He went on to play for two years at SIU, making 27 starts and fanning 115 batters.
Despite stellar performances in College, Marciano was not drafted until the 36 round of the 2017 MLB Draft. While in the minors, he was an All-Star in 2017 and 2018 but stepped away from the game in 2019. This is where the underdog story continues. Cue the Rocky Balboa inspirational music. Despite being away from the game for two years, Marciano continued to train and improve his pitching, increasing his speed from 90 to 97 MPH. He gave it one more shot and was assigned to the AA Richmond Squirrels. He advanced to AAA last season and is expected to make his Major League debut sometime during the 2023 season.
"I just love his story and continued dedication to the game," said JALC Head Baseball Coach Kyle Surprenant. "He is a great example to younger players that it doesn't matter where you start in this game. It is about how hard you are willing to work and continue to improve."
Marciano is currently playing for Team Italy in the World Baseball Classic, an international competition partnered with Major League Baseball featuring professional and amateur athletes worldwide. Team Italy is managed by Major League Baseball Hall of Famer Mike Piazza and is currently 2-1, including an impressive win over Team Cuba in the opening round. Team Italy will next play in Tokyo on March 16.