JALC is the Only Community College in the Region to Offer State-Of-The-Art Synthetic Human Technology
Published on January 18, 2023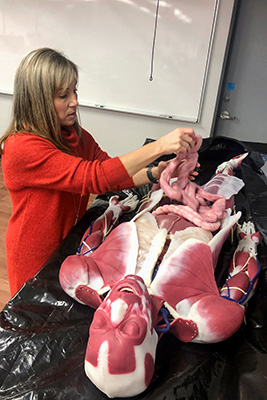 John A. Logan College is the only College in the region, and possibly the first community college in Illinois to use the SynDaver Synthetic Human Surgical Model to train Anatomy and Physiology students and students in the Emergency Medical Services Program. According to the company's website, the SynDaver Surgical Model is an elaborate, sophisticated full-body surgical simulator. The model is a 3-D jigsaw body puzzle with every muscle, bone, and vascular component. The College will fully utilize the technology for the first time this spring after purchasing two SynDaver models with funding help from the Delta Regional Authority via the State's Economic Development Assistance Program. The funds were awarded to JALC to help increase the number of EMT/EMS-trained personnel in the area to address a critical shortage. The SynDaver is a training tool for the students to provide real human anatomy experience.
According to Professor of Biology and Life and Physical Science Department Chair Cheryl Thomas, SynDaver technology gives students experiences they would otherwise not get.
"As a community college, we cannot maintain actual cadavers, so the SynDaver is a viable replacement and amazing teaching aid for our Anatomy and Physiology students and our EMT/EMS students," said Thomas. "This technology allows our students to get hands-on experience with human anatomy instead of dissections on small mammals. It gives the students a glimpse of what a human looks like without having to have the requirements and rules of having human cadavers. The SynDaver is so realistic you can pull on the tendons, and it will move the corresponding part."
Thomas added that because of this technology, students that plan to transfer and take advanced science courses at a university would have a distinct advantage and deeper understanding of human anatomy.
"We hope that this will inspire students. Suppose they plan to continue in a science program. In that case, they will have had a head start because our courses are the foundation for all the other courses they will take as a pre-major such as medicine, physical therapy, and pharmacy. As well as our nursing and occupational therapy assistant programs."
Students in the College's Emergency Medical Service program are also using technology to give students a better foundation and to prepare them for future training. Emergency Medical Service (EMS) courses at John A. Logan College are structured to train students as intermediate and advanced first responders and provide a continuum of training after becoming certified as basic Emergency Medical Technicians. Emergency Medical Service (EMS) courses are structured to train students as intermediate and advanced first responders and provide a continuum of training after becoming certified as a basic Emergency Medical Technician.
According to Emergency Medical Services Instructor Leslie Mckenzie, the SynDaver will have students more prepared to enter the clinical phase of their training.
"Our students rarely have an opportunity to study a cadaver or human body before they start their clinical experience," said Mckenzie. "The SynDaver allows them to see where the various organs and vessels are located, touch them, move them, and see how the body goes together. This will better prepare students for their clinical experience and patient care."
For more information on Anatomy and Physiology courses and the EMS program at John A. Logan College, visit www.jalc.edu or contact the Advisement Office at 618-985-2828, ext. 8070, or registration@jalc.edu.