Early Childhood Education Program to be Offered Online to Accommodate Working Students, Scholarships Available
Published on October 7, 2022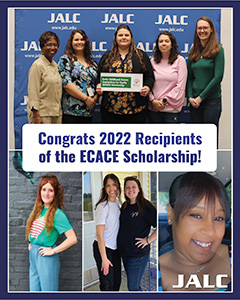 All Early Childhood Education (ECE) courses will be offered online, except for practicum/lab courses, to accommodate working and long-distance students beginning in the spring semester. Four online courses will be delivered in an 8-week block format to further accelerate the program. Students enrolling in an ECE block course must be currently working in an early childhood program. Practicum/lab courses can be completed on or off-campus with prior approval from the early childhood center director and ECE faculty. For more information about ECE course offerings and registration, please contact Dr. Marilyn Toliver, ECE Professor/Advisor, at marilyntoliver@jalc.edu. or call 618-985-3741, ext. 8468.
The State of Illinois provides substantial financial support to Early Childhood Education majors.
"Now is the time to finish your ECE degree. We desperately need more qualified ECE teachers," said Dr. Marilyn Toliver. "If you are an ECE student working in an early childhood education program who would like to complete your credential or degree, the ECACE Scholarship was created for you."
According to Toliver, the scholarship will pay all of your school expenses. The scholarship is ongoing while funding lasts; students can apply at any time.  For more eligibility information and to apply, visit: www.isac.org/ECACEscholarship Illinois Student AssistanceCommission (ISAC). Individuals needing assistance with the application process can contact Ms. Kathleen Riggs, Higher Education Navigator, at kathleenriggs@jalc.edu, in the JALC Child Care Resources & Referral (CCRR) office.