Department of Marketing, Public Relations, and Communications Receives Top Prize at Regional Competition
Published on October 5, 2022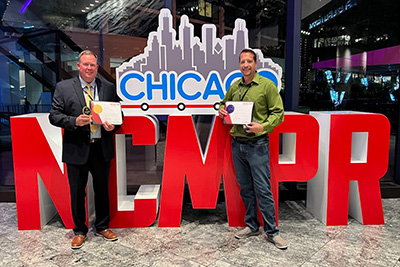 On September 28, the National Council for Marketing and Public Relations held the annual District 3 Medallion Awards Ceremony in Chicago. District 3 comprises all community and technical colleges in Illinois, Indiana, Ohio, Michigan, Wisconsin, and Ontario, Canada. The Medallion Awards recognize the top achievements in community college advertising, public relations, and communications. The 2022 Medallion Awards competition had 347 entries in 40 categories. The John A. Logan College Office of Marketing, Public Relations, and Communications won first and second place in the Television Ad Series Category. The Future is in Your Hands JALC CTE won the Gold Medallion, and Why Would You Go Anywhere Else JALC Alumni Testimonials won the Silver Medallion. Joliet Junior College received the Bronze Medallion in that category.
Assistant Vice President for Marketing, Public Relations, and Communications Dr. Steve O'Keefe and Webmaster Phillip Lane attended the ceremony.
"It is exciting to win in a category when competing against schools using large advertising firms and large departments," said O'Keefe. "We may be a smaller departure, but we are blessed to work with some extremely talented people. We would not have even been a finalist without the talented team at Growing Media led by Angie Wyatt and our Student Life and Recruitment Manager, April Martinez."
The department will next compete in the National Competition in March.