JALC Holds Fifty-Fourth Honors Night
Published on June 8, 2022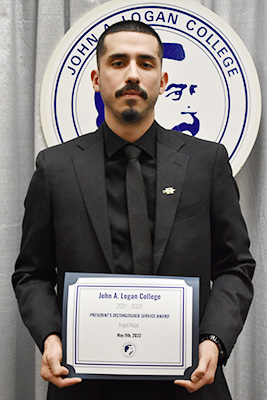 John A. Logan College recently held the Fifty-Fourth Honors Night, honoring top students from various programs. The following were recognized with Instructional Awards: Mallory Henson, Southern Illinois Dental Society Scholarship for Dental Assisting; Samuel Cohen and Chelsey Greenwood, Outstanding Message Therapy Students; Mia Van Zant, Outstanding Accounting Student; James Burris, Outstanding Small Business Management Student; Brian Roland, Outstanding Mathematics Student; Taylor Norman, Excellence in English; Julia Parks Excellence in Music; Josie Baker, Olivia Cripps, Excellence in Communication Research; Beth Davis, Excellence in Public Speaking; Nicolette Boucher, Andrew Snell, Outstanding Social Science Students; Elizabeth Eastham, Excellence in Biology; Hannah Hunter, Excellence in Chemistry; Daleece Moore, Excellence in Integrated Science.
The following students received Co-Curricular Awards: Nyssa Burks, Autumn Dowdy, Hannah England, Luke Herron-Titus, Alexis Joplin, Rilee Kirby, Civic Leadership Academy; Kory Behnken, Outstanding Graduating STEM Club Member; Jacob Reichert, Outstanding STEM Club Member; Wendell Killian, Outstanding Student Ambassador, Angel Najar, Student Leader of the Year.
The following students received Presidential Awards: Alexis Parchman, ICCTA Paul Simon Student Essay Award; Ashlyn Jackson, ICCTA Gandhi/King Peace Scholarship Contest Award; Kory Behnken, Angel Najar, 2022 All-Illinois Academic Team; Jacob Reichert, Board of Trustees' Merit Scholarship; Angel Najar, President's Distinguished Service Award.
The following students received Presidential Citations: Sydney Brown, Katie Crombar, Elizabeth Davis, Austin Garbe, Abby Horn, Luke Lynn, Zach McGinn, Dustin Myers, Emily Perry, Isuru Udara Cha Rajasri This Pathirannahelage, Brian Roland, Ryan Smelcer, Gregory Walker, Zane Wilcoxen.