Carolyn Rendleman, Wife of Longtime JALC Board Member, Jake Rendleman has Passed Away
Published on September 28, 2021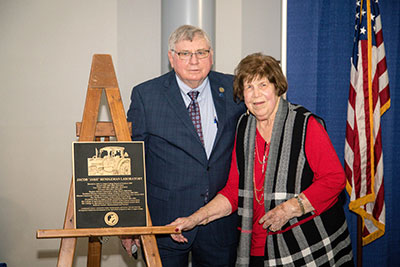 Carolyn Rendleman, the wife of longtime John A. Logan College Board of Trustee Member Jake Rendleman, passed away on Monday, September 27, 2021, after a long illness.
"Jake and Carolyn Rendleman were a team," said Board Chair Bill Kilquist. "They have faithfully supported this College and several other charities and organizations, but most importantly, they faithfully supported each other. Her passing is a tremendous loss to the John A. Logan College family."
Carolyn Rendleman was a retired school teacher. She and Jake were married for 58 years and have two daughters, Amy Schwendemann and Susan Dennison, and four grandchildren. Like Carolyn and Jake, both daughters are educators.
Carolyn Rendleman was present in March when the College dedicated the Jacob "Jake" Rendleman Laboratory, where she spoke about her husband and their marriage. John A. Logan College President Dr. Kirk Overstreet remembered Carolyn Rendleman's remarks on that night.
"Despite the difficulties of her illness, she stood and said that Jake was her all. I distinctly remember the look on his face that expressed the feeling was mutual," said Overstreet. Riggin-Pillatsch & Burke is handling the services. Visitation will be at 4 PM Sunday, October 3, and the service will be at 11:00 AM Monday, October 4. Further announcements will be forthcoming.