JALC Phi Theta Kappa Honor Society Named the Top Chapter in Illinois
Published on June 10, 2021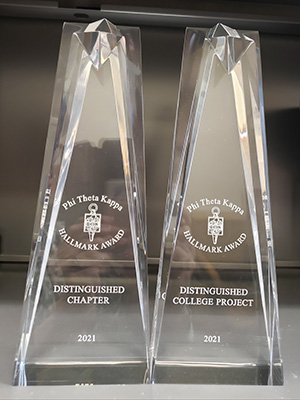 After a tough year, John A. Logan College's chapter of Phi Theta Kappa (PTK) honor society has recently been recognized with several state and international awards, including recognition as the top chapter in Illinois and designation as a top 40 chapter internationally. In addition, Henrick August Esguerra was named an Outstanding Officer at the State Convention.
According to the chapter's sponsor, Associate Dean for Student Activities and Cultural Events, Adrienne Barkley Giffin, students never stopped collaborating on projects, even during quarantine.
"When the College shifted to fully remote instruction in March 2020, students in the Upsilon Pi chapter of PTK continued meeting online to work on two projects: College Project and Honors in Action," said Barkley Giffin.
"The original aim for College Project was to increase the number of students who apply for John A. Logan College Foundation scholarships by providing on-campus application workshops targeting second-year and non-traditional students," said Barkley Giffin. "Working in partnership with College administrators and Foundation staff, the effort resulted in a 'Paying for College' webpage designed to serve our students better."
Barkley Giffin added the second project, focused on internet access in rural areas resulting in recognition as a Top 100 Chapter award and a Distinguished Chapter award, and top 40 distinction at the International Conference. According to Barkley Giffin, the College Project was one of 50 to receive the Distinguished College Project award.
This past weekend the chapter earned both the Top Chapter Award and the top College Project Award at the Illinois Regional Convention and Honors Institute.
John A. Logan College President Dr. Kirk Overstreet expressed his pride in the chapter for their outstanding work under challenging circumstances.
"We are excited about these awards and what they say about the quality of education and co-curricular activities at John A. Logan College," said Overstreet. "I am so proud of these students not only for receiving these honors but also for how well they represent John A. Logan College locally, throughout the state, and internationally."
Barkley Giffin added that the awards belong to the entire College community.
"The awards are shared with the entire College because it's in classes with our superb faculty and interactions with our phenomenal staff that our students develop the knowledge and skills to produce outstanding work that benefits students, the College, and the community."