Life Returning to Normal at JALC
Published on May 19, 2021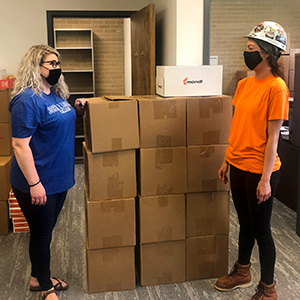 To say that the 2020-21 academic year was a year unlike any other would be an understatement. Remote learning, zoom meetings, masks, and a fire disrupted but did not deter the College's operations.
When the Governor issued the first shelter in place, order faculty quickly transitioned to online learning, and the student services staff transitioned in order to serve students' needs remotely. In June, staff returned to campus alternating days to ensure proper social distancing. By the start of the fall semester cleaning protocols, and temperature check stations were in place to welcome students back to campus. Then on the first day of classes, a fire in a mechanical room resulted in the majority of the campus being shut down and staff relocating staff to temporary offices. But, again, faculty and staff quickly adjusted, and the semester moved on uninterrupted.
"What our faculty and staff have been able to do is unbelievable," said Provost Dr. Melanie Pecord. "Every school dealt with the pandemic, but for our staff to relocate and readjust on the fly after the fire on top of everything else is just remarkable."
On January 1, 2021, Dr. Kirk Overstreet took over as President of the College. Determined to have John A. Logan College be a leader in the region's effort to move past the pandemic and return to normal operations, Overstreet established a COVID Taskforce and organized an on-campus vaccination clinic for faculty and staff.
On May 17, the Overstreet's hopes of returning to normal operations took a significant step forward when remote staff returned to campus just days after the College held in-person graduation and nurse pinning ceremonies.
"Two of my goals were to have an in-person graduation and have all staff on campus before the summer term began," said Overstreet. "Not only have we accomplished these goals but also, the majority of our staff are returning to their permanent offices."
Recent updates from the CDC and IDPH have Overstreet optimistic. However, he is still encouraging students to do their part to help John A. Logan College ultimately return to normal operations.
"This updated public health guidance is a great development in our fight against the pandemic, and it is a direct result of the COVID-19 vaccines," said Overstreet. "The best way that each of us can continue the return to pre-pandemic life is to get vaccinated. If you have not received the vaccine yet, please plan to do so to protect yourself, your friends, and loved ones."
Summer semester classes at John A. Logan College begin on June 7. Registration for summer and fall classes is underway.  Individuals interested in enrolling at JALC should visit www.jalc.edu or by phone at 618-985-2828.