JALC Names English Instructor Lesley Brower the Outstanding Adjunct Faculty Member for 2021
Published on May 17, 2021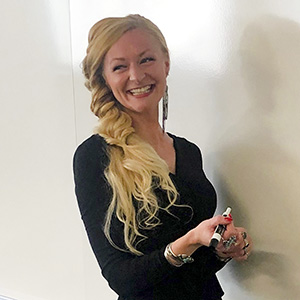 First Lady Dr. Jill Biden has often stated that education is important because it teaches us compassion and kindness, and a connection to others. Like Biden, Lesley Brower is a community college English Instructor whose compassionate and caring nature has helped forge a lasting connection with her students. It has also garnered the admiration of her peers, who recently voted Brower the 2021 Outstanding Adjunct Faculty Member at John A. Logan College.
Brower's philosophy is to cultivate a safe, supported environment where her students can explore themselves and refine their written communication with core English skills.
"When my students and I gather, we become a community of scholars in shared knowledge. Therefore, I continually dedicate myself to fostering a safe, educational space that honors the diversity of race, ethnicity, gender, sexuality, age, and ability/disability," says Brower. "My assignments are designed to fulfill the course learning outcomes while encouraging students to delve deeper into their own experience of the world and the self."
A native of Kentucky, Brower moved to southern Illinois to pursue a Master's in Fine Arts in Poetry from SIU and fell in love with the region. The love of teaching and the desire to truly inspire her students is what has influenced her to develop a community with her students beyond the confines of a classroom.
"I also engage with my students outside of the classroom by attending their recitals, sporting events, art and fashion shows, and endearingly awkward attempts at stand-up during local open mics. I've been honored to meet their parents, their partners, their children, and their grandchildren. There is real power in the community."
The effort to truly get to know her students and forge a strong connection has caught the eyes of her colleagues.
"If you walk past one of her classrooms between classes, she's always standing at the front of the room, engaging with students. She's talking; they're talking. It doesn't look like class business; it seems like she's very natural at engaging with them, at meeting them where they are," said English Professor and Department Chair Mat Garrison.
Brower considers these efforts as an investment in her students' futures.
"I see the impact those investments make with each new journal entry, discussion contribution, and fresh piece of writing students produce," said Brower. " I never feel more challenged or energized than I do when I'm teaching, and each day I am reminded that the kindest, most beautiful way I can influence my world is by serving the person in front of me.
Lesley Brower and Outstanding Full-Time Faculty member Matt Garrison were honored at John A. Logan College's Fifty-second annual commencement ceremony on May 13 at the Du Quoin Fairgrounds. They will also be recognized at the annual meeting of the Illinois Community College Trustees Association later in the summer.