JALC President Completes First 100 Days
Published on April 29, 2021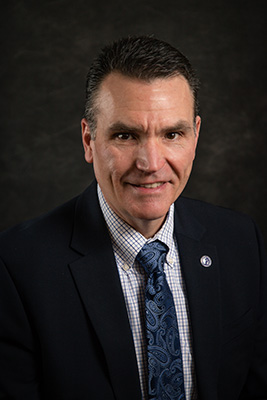 When Dr. Kirk Overstreet took over as President of John A. Logan College on January 1, he was walking into the middle of an academic year affected by COVID restrictions and a fire on the opening day of the fall semester that left a large portion of the College's staff displaced. The avid runner had to hit the ground running, putting in long hours to get to know the staff, establish plans for the College to move beyond COVID, and oversee a return to normal operations in an unusual time.
After 100 days on the job, Overstreet is settling into his new role and enjoying the challenge of leading the College through these uncertain times.
"Taking over as a college president mid-year can have its challenges, especially for someone coming in from the outside," said Overstreet. "Fortunately for me, there was already an outstanding staff in place. I can't begin to tell you how impressed I have been with the level of collaboration throughout campus to keep moving forward over this challenging year.
Overstreet believes that collaboration and thinking outside of the box are moving the College towards returning to "normal" operations in the coming months.
The College recently held an event that has the new President optimistic about a return to normal. A recent clinic organized by Overstreet and the Bi-County Health Department vaccinated over 200 employees of the College and their immediate family members.
"The vaccination clinic was the first step in our return to more face-to-face offerings," said Overstreet. "We will continue to follow all social distancing protocols in the fall, but we feel that we can return to more 'normal' scheduling and the vaccination clinic was a major milestone in that effort."
As he focuses on the upcoming year, Overstreet wanted to make sure that current students were rewarded for persevering through the last year's challenges. To honor those students, Overstreet challenged staff to develop a plan to hold an in-person graduation ceremony. He recently announced that the College had developed a plan to hold a graduation ceremony on May 13. The ceremony will be held at the Du Quoin State Fair Grounds Grandstand to provide adequate social distancing.
"I wanted to make sure that we held an event to honor our graduates this year," said Overstreet. "Our Graduation Committee has done an outstanding job of planning this special event. We looked at several different options and found that the Fairgrounds could accommodate our needs."
According to Overstreet, this year has presented both challenges and opportunities. To maximize those opportunities, he has put together groups to address both short-term and long-range goals for the College.
"Working with our COVID taskforce, I have been able to put together a plan that has our campus back to fully staffed on May 17. We are eager to serve our students, and the best way to do that is to have our entire community here together," said Overstreet.
In addition to the COVID Taskforce, a Data Taskforce and Strategic Planning Taskforce are working towards long-term planning. Overstreet stated that he meets with an expanded President's Cabinet weekly and a Senior Leadership Team monthly.
"I want to make sure that each division of campus has a voice not only in the day-to-day operations but also in the long-term plan. That has been my focus in the first 100 days, and it will continue to be my focus as we move forward."
Dr. Kirk Overstreet is John A. Logan College's ninth President. He was hired in November after a national search to replace Ron House, who retired December 31.