John A. Logan College Cyber Defense Team Finishes Second in State Competition
Published on February 22, 2021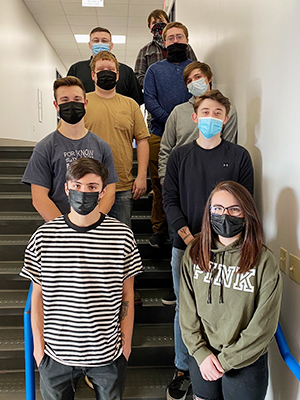 The John A. Logan College Collegiate Cyber Defense Competition Team, The Logan Defenders, finished second in the recent Illinois State Collegiate Cyber Defense Competition. DePaul University won the competition. The Logan Defenders will compete March 6 in a Wildcard event for the right to join DePaul at the Erich J. Spengler Midwest Regional on March 19 and 20.
The Logan Defenders are no stranger to this competition. For the past several years, the Team has not only competed against larger research-based universities, but they have also beaten them.
At the Illinois State Collegiate Cyber Defense Competition, the Defenders outmaneuvered the eight schools earning the right to compete in a wild card competition on March 6. The Logan Defenders will go up against nine other schools from the mid-west, where the top two teams will gain the final spots in the Mid-West Regional Finals on March 19 and 20. The winner of the Mid-West Regional Finals, comprised of schools from Minnesota, Iowa, Missouri, Illinois, Michigan, Indiana, and Ohio, will advance to the National Championship.
Mark Rogers, coach of the Logan Defenders, along with Kylee Williams and Roger Jeter, states the CCDC teams are different from most competitive teams because they have no communication with their coaches during the competition.
"When the competition starts, they are on their own and can't ask for anything," said Rogers. "That is where we are different from most sports teams where coaches can give advice and call time-outs. We rely on how much they have learned and how well they can do research on the fly."
The Team is only in its sixth year, and this is the second year in a row that the Team has advanced to this round. In addition to the state competition, the Team has been invited to the prestigious Argonne Department of Energy Cyber Event three out of the last four years and the Wicked Six Cyber Event this past summer. Rogers credits the continued success to the student's dedication and the College's support.
"Our team puts in a lot of time and effort to be successful, and everyone from the Board of Trustees, College officers, and even our athletic coaches have been nothing but supportive to our efforts," said Rogers.
The 2020-21 Logan Defender Team Members are Alex Hayes, Carterville; Austin Ide, Chicago: Amanda Reynolds, Carterville; Danny Ridings, Johnston City; Dustin Meyers, Johnston City; Josh Jean, Crab Orchard; Matt Keller, Marion; Trent Grider, West Frankfort; and Tyson Nicklin, West Frankfort.