John A. Logan College Names Dr. Kirk Overstreet President
Published on November 30, 2020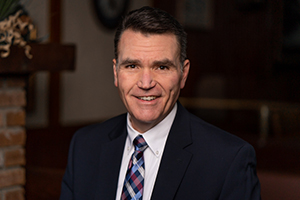 John A. Logan College will begin the new year in January with Dr. Kirk Overstreet as its ninth President. He described the opportunity as "A great honor to be a part of such an outstanding college. I am looking forward to being a part of this community and all of the positive things that John A. Logan College is doing."
The Board of Trustees announced Tuesday the successful completion of the College's presidential search by naming Overstreet, the Assistant Provost for Instruction at College of DuPage in Glen Ellyn, Illinois, to lead John A. Logan College into the future. He will succeed Dr. Ron House, who will retire on December 31 after five years as President. Overstreet was one of four finalists selected by a Presidential Search Screening Committee after a national search. Each finalist interviewed with the Board of Trustees and took part in a virtual question and answer session with faculty and staff.
Board Chair Bill Kilquist expressed his "elation" with the board's unanimous decision to hire Overstreet.
"As the Board of Trustees sought its next president, it was clear after interviewing a phenomenal group of finalists that Dr. Overstreet was the person possessing the unique background and talent we are seeking to lead our college," said Kilquist.
Overstreet has served as the Assistant Provost for Instruction at College of DuPage since January 2019. In that position, his primary responsibility has been to foster student success through persistence and completion across all academic programs and support services. In addition to his current role at DuPage, he has also been the Associate Vice President for Academic Affairs, Interim Vice President for Academic Affairs, Assistant Dean of Adjunct Faculty Support, and Interim Associate Dean of Learning Technologies. Prior to his time at College of DuPage, he was the Associate Director of Human Resources for the College of Business Administration and the Interim Assistant Director International Service Coordinator at the University of Illinois Chicago. He was also the Compliance Manager, Loop Campus Facility Manager, and Designated School Official at BIR Training Center in Chicago. In addition to his administrative duties, Dr. Overstreet served as an adjunct instructor of history at Lewis University.
After a successful career in the electrical construction industry, Overstreet returned to the College of DuPage to complete his studies. He graduated with a Bachelor of Arts in History from North Central College, Master of Arts in History from Ball State University, and Doctor of Philosophy in Organizational Development from Benedictine University.
A native of Downers Grove, Dr. Overstreet, and his wife Becky will soon begin the relocation process as he prepares to start work on January 1.
"We are looking forward to getting to southern Illinois and starting this next chapter in our lives. I feel that there has never been a better time to be a part of the community college mission," said Overstreet. "We have an opportunity to drive change and to be a place of equity and inclusion to prepare students to be well-rounded citizens, and I think that John A. Logan College is positioned to do just that."
Overstreet added that he is excited to be a part of a college that perseveres, even during this difficult time.
"When I visited the campus, the grit of the faculty and staff was evident. Despite the stress from the pandemic, and the recent fire, I saw a smiling face everywhere I went, even behind the masks. I knew then Why would I go anywhere else."