Ameren Illinois Donates $65,000 to Poshard Foundation to Help Families Affected by COVID-19
Published on October 20, 2020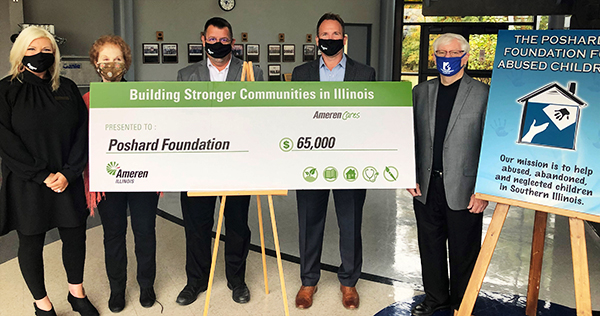 Ameren Illinois made a $65,000 contribution to the Poshard Foundation at a ceremony at John A. Logan College on Monday, October 19. The donation was made to help the organization provide essential resources to southern Illinois families impacted by the COVID19 pandemic. The gift was funded by a donation from Ameren Illinois employees and the company's Board of Directors.
"It began in August when our Board of Directors and employees came together to raise funds for people who have been severely impacted by COVID," said Ameren Director of Gas Operations, Brad Kloeppel. "We called the campaign 'The Power of Giving' and I am proud to say that to date, it has raised over eight hundred thousand dollars. We are pleased today to make this donation to the Poshard Foundation.
"This is amazing. Our Foundation doesn't get checks of this magnitude very often," said Jo Poshard. "Some of the ways that we will use this will be for emergency food needs. As well as basic supplies and hygiene products, as well as educational and counseling needs. The most important thing is that it will all be used to help children."
"Our relationship with Ameren goes back for many years. They are not only one of the great companies that serve southern Illinois, but they have also been a company with a heart for these abused, neglected, and abandoned children that we serve," said Glenn Poshard. "We are so grateful for this partnership because it has enabled us to help take care of literally thousands of families in southern Illinois."
In addition to the donation for COVID relief, Jo Poshard announced that Ameren has also pledged $5,000 to the Foundation's annual Christmas toy drive.
"The individual that usually helps provide toys for this event cannot this year due to COVID. We are so thankful for Ameren's generosity to help us continue our Christmas holiday gift giveaway for children."
The Poshard Foundation began in 1999 to help heal abused children physically and emotionally and stop the abuse of children.
John A. Logan College provides office space and amenities to help the Foundation provide funding for children in crisis when other funds are not available.
For more information, contact the Poshard Foundation at 618-985-2828, ext. 8564.