Challenge Accepted
Published on May 17, 2021
Next Generation of Front-Line Workers Receive Nursing Pins at JALC Ceremonies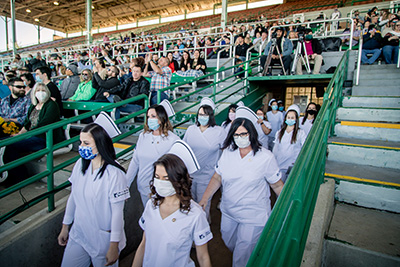 John A. Logan College held pinning ceremonies for Licensed Practical Nursing and Associate Degree Nursing students Wednesday at the Du Quoin State Fairgrounds. Two separate ceremonies were held to ensure proper social distancing. LPN students took part in an afternoon ceremony, and ADN students were recognized at an evening ceremony.
Director of Nursing Dr. Marilyn Falaster had high praise for the graduates for overcoming multiple obstacles throughout the past year.
"This has been true perseverance. They decided that they wanted this badly, and they decided to dig in and do what it takes to reach their goal," said Falaster. "The success that we celebrate today is a combination of encouragement from faculty and staff as well each other, but mainly it came down to perseverance. They wanted to be a nurse no matter what the obstacles."
Falaster added that this group is prepared to be the next generation of frontline workers.
"Because of what we have faced in the past year, this group of nurses will be more prepared than any other generation to handle future pandemics, and I believe that is something they may have to face during their career, unfortunately."
Falaster, who will retire this summer after 22 years as the Director of Nursing, became emotional when talking about the nursing faculty and their dedication to prepare their students during this challenging year.
"When the world shut down a year ago, this nursing faculty did not. Instead, they marched forward learning how to continue to provide the absolute best instruction through new methods to get these people finished," said Falaster. "I am so proud to be a part of such an outstanding and dedicated group of Nurse educators."
LPN class speaker Cassandra Upchurch, a combat veteran, shared an experience from her time in the military. Upchurch described her thoughts when she and other soldiers were asked to tell why they had volunteered during a time of war.
"When I was asked why I enlisted in the military, I just knew that was where I needed to be and what I needed to do to serve my country. Yet, today you see a group before you that dare I use the comparison also enlisted in a time of war," said Upchurch. "In 2020, we faced a new enemy that knew no race, no gender, no age or borders, and it changed life as we know it, yet this group before you said challenge accepted."
Upchurch went on to describe this group of nursing students as "firebrands."
"Firebrands are forged in the fires of adversity, and they carry the flame of change everywhere they go. Awaking sparks of passion, courage, and hope in everyone they meet," said Upchurch. "I first heard this term a few years ago when a dear friend said that she believed a generation of firebrands was going to explode across the globe. I believe that I stand here today with a portion of that generation of firebrands that will change and revolutionize the nursing profession."
The John A. Logan College class of 2021 has persevered. They have overcome challenges and faced a new enemy. Yet, they rose to the occasion and did not quit. They have accepted the challenge and will soon be standing on the frontline, ready to carry those flames of change everywhere they go and with every challenge they meet.