Charlie Jones Giving it His All at John A. Logan College
Published on August 25, 2020

Whoever coined the phrase, "A good man is hard to find," never met Charlie Jones. The John A. Logan College Assistant basketball coach has been a mentor and role model to countless young people throughout his career in basketball, law enforcement, and ministry. Today, the retired Illinois State Police officer not only helps coach one of the Nation's top basketball programs, but he also chairs the College's Diversity Committee and was recently named to the search committee to assist in the selection of the College's ninth President.
Jones came to John A. Logan College in 1985 from Stephen Decatur High School to play for legendary coach Tom Ashman. As a freshman, Jones was a member of the first team in school history to be ranked in the top 10 nationally. It was during his time as a player that he fell in love with the College and a cheerleader that would become his wife.
"I had a great experience both personally and academically here and just fell in love with Logan and the Logan family," said Jones.
After transferring to SIU, Jones had an opportunity to join the SIU Police Department, where he worked for nine years before joining the Illinois State Police. While working in law enforcement, he stayed close to the game of basketball coaching his daughter's AAU basketball team, which lead to an opportunity to coach his daughter at Southeastern Illinois College. It was during his time at SIC that then John A. Logan College assistant coach Kyle Smithpeters approached him about helping out at his alma mater.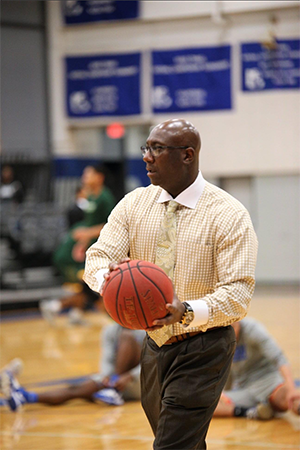 "We were talking before a game at SIC, and Kyle said, why don't you come over and coach with us," said Jones. "After thinking about it for a little while, I thought how great it would be to go back to where I played and help other young men work through the same halls I walked and the same gym that I had played in."
After ten years as an assistant and nine under coach Smithpeters, Jones says the recipe for success has been the family atmosphere of the program.
"What makes it so easy for us to set the environment for success is having someone like coach Smithpeters who first and foremost is a family man, and he thinks of us in that way and takes care of us the best he can to give us what we need to be successful."
Head Coach Kyle Smithpeters is quick to point out how much Jones has meant to him as they have built the basketball program into a consistent title contender.
"Coach Jones is truly the most genuine person I know. We are so blessed to have him on campus each day," said Smithpeters. "He has such a positive influence on everything he does and is involved in, and he is such an integral part of the success of our program."
Jones says it is his "experience box" that has helped him develop a strong bond with his players.
"At my house, my entire family is involved in the coaching, and we try to provide a safe environment for the players to be able to open up and share what is going on with them," said Jones. "Depending on what they tell me, I can reach into that experience box and share with them my own experiences."
Jones says the biggest reward is when former players reach out with a call or text to check-in.
"When I get a text or Facebook message from a former player who just wants to check in or let me know that I made an impact or deposit in their life, it means so much, and that is what I strive to do is make an impact," said Jones.
Charlie Jones is making an impact at John A. Logan College both on the basketball court and off it as well. He sees both the opportunity to lead the Diversity Committee and be a member of the Presidential Search Committee as opportunities to make a long-term impact on the campus.
"I don't take any of these positions lightly, I am humbled and honored to do what I am doing here, and I just want to make an impact so that whenever I leave here, they will know I gave it my all." From player to coach and serving on essential committees on campus, it is clear that Charlie Jones has given it his all to John A. Logan College and life. With so much going on, you might have to look hard to find him, but one thing will be clear when you do, you will have found a good man.