COVID-19 Update Archive
Latest Update
July 31, 2020
Fall 2020 Welcome Message
JALC Students,
As we look forward to the start of the fall 2020 semester, I would like to take this opportunity to answer some questions about what students can expect. Additionally, a detailed plan for the semester will be posted on the College's website next week. As most of you know, the situation surrounding the COVID-19 pandemic continues to change rapidly. In order to stay informed, students must continually monitor VolText, VolMail, student portal, and the college website for the most up-to-date information. The College Return to Campus Plan will adhere to the guidelines and safety precautions set forth by ICCB, CDC, IDPH, and WHO.
Important Dates:
Instruction begins on Wednesday, August 12, 2020.

Students should check MyJALC to determine class format, time, date, and location for each scheduled course. Locations for on campus meetings may be updated between now and the start of the semester.

Second block classes begin October 6, 2020.
Fall Semester Holidays

Labor Day – Monday, September 7

Election Day – Tuesday, November 3 (new scheduled holiday)

Veteran's Day – Wednesday, November 11

Thanksgiving Break November 23 – 28

All courses will move to online instruction beginning Monday, November 30, through the end of the semester.
Final Exams are scheduled for the week of December 8 – 11 (online format)
Fall 2020 Course Formats:
Online Anytime
Online Scheduled
Hybrid
Face to Face
Visit https://www.jalc.edu/course-formats for specific details on course formats and what that means for students.
Safety:
Masks will be required at all times while on the JALC campus.
Cleaning protocols have been established based on Illinois Restore plan, IDPH, and CDC.
Face-to-face classes are scheduled in classrooms that allow adequate space for social distancing in order to meet established guidelines.
Wellness and temperature checks will be conducted daily at four designated entrance locations on campus.

West Entrance (Bell Tower)

East Entrance (Coffee Shop)
Students must enter through one of these designated entrances. All other entries to the college will be restricted.
Financial:
Online Anytime, Online Scheduled and Hybrid tuition will be discounted 10% for the fall 2020 semester.
The College has waived the activity fee for the fall 2020 semester. This will be credited to your account after September 1, 2020.
Returning students who were enrolled in the spring 2020 semester, and are eligible under the established guidelines, will receive additional CARES money. Details concerning the distribution of funds will be forthcoming.
Again, the College is excited for the start of the start of a new semester. While things may look different from past semesters, the focus continues to be student success. Please remember to keep checking VolMail and the website for fall semester updates.
Sincerely,
Dr. Melanie Pecord
Vice President for Instructional Services
---
July 23, 2020
The fall 2020 schedule has been updated to align with state and federal guidelines established in response to the COVID-19 pandemic. The College will offer courses in four distinct formats; online anytime, online scheduled, hybrid, and face-to-face. Detailed descriptions outlining each delivery method are listed on the website. Students can access their updated schedules on MyJALC. While some courses have moved to a different format, the days and times for face-to-face, hybrid, and online scheduled courses have not changed to avoid altering student schedules. Closer to the start of the semester, students should again check their schedules for possible room changes for face-to-face and hybrid courses as the College works to ensure the best use of classroom space based on enrollment and social distancing guidelines.
Student bills will be updated to reflect the changes to the course schedule. All Bursar bills will be corrected and available to view on MyJALC by Thursday, July 30th. In consideration of recent updates, fall tuition payments are not due until September 1st, which is also the last day to sign-up for the payment plan. Additionally, Financial Aid is processing fall award notifications to be completed and emailed to students by July 30th. Students must check their JALC Volmail accounts regularly for information on the status of financial aid awards and additional documentation requirements. Book vouchers for the fall semester will be available in the bookstore beginning on August 4th. Please continue to check the college website for additional updates. The faculty and staff at John A. Logan College remain committed to providing students with a quality education and look forward to the start of the fall semester.
---
July 13, 2020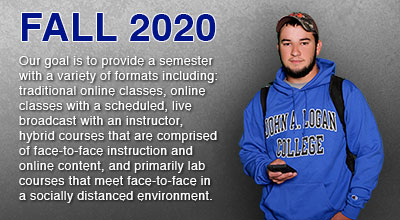 We know there is so much that is unknown right now about the Fall 2020 semester. There are questions such as, "What will the fall semester look like? Will the semester be "normal?" Will classes be online? Will I get to have classes with my instructors? Can we all be in a classroom at one time? Will we have to wear face masks? Will the fall schedule change from what is posted now? Will the buildings be safe? While we do not have all the answers just yet to this evolving situation, we want you to know we are diligently working on these items and many more to plan and announce our Fall 2020 academic schedule in the near future.
John A. Logan College's top priority is to provide a quality education in a safe environment. To do so, we are following the Illinois Community College Board's recently released Guidance for the Return to Campus for Illinois Community Colleges in Response to the COVID-19 Pandemic, the governor's Restore Illinois Plan, as well as guidance by the Illinois Department of Public Health and the Centers for Disease Control. Currently, we are collaborating with our faculty and staff to create a Fall 2020 schedule that will best meet the needs of our students. While some courses may convert to an online format, there is recognition that many subjects are better experienced in a face-to-face environment. Our goal is to provide a semester with a variety of formats including: traditional online classes, online classes with a scheduled, live broadcast with an instructor, hybrid courses that are comprised of face-to-face instruction and online content, and primarily lab courses that meet face-to-face in a socially distanced environment.
We are hopeful Illinois will remain in "Phase 4" of the Restore Illinois Plan, but we are also planning our response should this change. Thank you for your patience in waiting. Please know there are many people working to best support the needs and desires of our students. Again, we want to provide the best education for students while keeping all individuals involved in the process safe and healthy. Together, we will get through this experience and will be stronger on the other side.
Sincerely,
Melanie K. Pecord, Ed.D.
---
June 30, 2020
Beginning Friday, June 26, 2020, the State of Illinois moved into Phase 4 of the Restore Illinois Plan. As a result, the following will be implemented:
Effective Monday, July 6, 2020, the Logan Fitness Center will open. Detailed information regarding the conditions of reopening will be disseminated by Fitness Center staff.
Effective Monday, July 6, 2020, the tennis courts will reopen.
All Community Education classes are cancelled for the remainder of the summer semester.
Employee work schedules will continue as they are until August 3, 2020, except some offices, because of workload, may work at full capacity. All social distancing and sanitary practices must be continued.
The fall instructional schedule will be announced the week of July 6, 2020.
The College will and is complying with the ICCB "Guidance for the Return to Campus for Illinois Community Colleges in Response to the COVID-19 Pandemic."
Ron House, Ph.D.
President
---
June 2, 2020
Beginning Monday, June 8, 2020, the offices at John A. Logan College will be open. Offices will be open each day from 8 am to 4:30 pm, Monday through Thursday, with the exception of the 4th of July week. (see Summer Schedule). All social distancing rules must be followed. To facilitate social distancing and other protective measures, not all employees will be working at the same time, but every employee will work. The vice presidents and/or your supervisor will provide more information on your work schedule.
During the summer semester, all required protective equipment and procedures will be followed by everyone coming on campus, including employees, students, and visitors.
Student workers will be allowed to start work on the 8th of June and continue for the summer semester.
No in-person, face-to-face meetings with students will occur at this time. Currently, all contact with students relative to counseling, registration, advising and other general consultation, will be done through virtual, teleconference or Zoom meetings only.
All classes will be online this summer except for those CTE students who are finishing spring semester requirements. CTE students will be contacted by their instructor with specific instructions.
All community education classes and activities, except those that are online, are cancelled for the month of June. A decision on community education activities for the month of July will be made at a later date.
The Fitness Center will be closed for the month of June, except for online courses and activities. A decision on opening the Fitness Center in July will be made at a later date.
The SIH Walk-In Clinic will remain closed until further notice.
FACILITIES (Provided by Vice President McCormick)
The facility staff has been busy preparing for the safe return of employees to the campus by increasing the cleaning and disinfecting frequency. Entry points into the campus buildings connected via enclosed walkways will be limited to the East Wing (coffee shop) entry, F Wing (conference center) entry, G Building, and the Communications Wing entries. Entrances to buildings not connected via enclosed walkways will be restricted to a single entry point. The West Entry (Bell Tower) will be closed due to construction activity this summer. These entries will be staffed by student workers from 7:30 am to 5 pm. At these entry points, those entering will be reminded of PPE use and social distancing requirements and will be provided PPE materials if they do not have them. The Facility Department has procured face masks, gloves, and a limited supply of sneeze guards for high public interaction locations. Separate communication will be sent to supervisors regarding the process to request supplies and for assistance with signage related to social distance spacing. Standardized signage, including floor spacing markers, will be provided by the Facilities Department. During the summer, there will be no food service provided due to the low campus population.
The College continues to look to the Illinois Department of Public Health approved safety guidance in decision making provided at the link https://www2.illinois.gov/dceo/pages/restoreILP3.aspx. Supervisors are to review the appropriate sections of these guidelines with staff during the week of June 8th.
Ron House, Ph.D.
President
---
May 15, 2020
John A. Logan College Will Extend Due Date, and Will Waive Activity Fee for Summer Tuition
Due to the COVID-19 pandemic, John A. Logan College officials have made the decision to extend the due date for Summer 2020 tuition one month from June 1 to July 1. In addition to the due date extension, the College will be waiving the Student Activity Fee for the summer semester as well. Students will see the fee on their bill, but the College will be waiving the $40 fee.
According to Vice President for Business Services and College Facilities Brad McCormick, the fee will remain on the student's tuition statement for reporting purposes, but it will be waived.
"For our own accounting purposes, the fee will show on the statement, but it will be waived at the time of payment," said McCormick. "We know that these are challenging times, and the College will continue to do all it can to support students in their education.
Students will have several options to pay their summer tuition. Students can pay online by logging into their MyJALC account. They can also pay via an interactive voice response system by calling 877-776-5358. The interactive voice response will walk individuals through making a payment, and the Bursar's Office will apply it to the student's account within 48 hours. Students will need to have their 7-digit student ID number when making the payment. Checks can also be mailed to:
John A. Logan College
Attn: Bursar Office
Carterville, IL 62918
Students also have the option to sign up for a payment plan by logging into their MyJALC account now through July 1, 2020. The payment plan will process two payments for the summer semester. The first payment will process on July 20, and the second payment on August 20. Please forward any questions to bursar@jalc.edu.
---
April 30, 2020
In accordance with Governor Pritzker's Stay at Home – Work at Home order, the current College work schedule will continue until further notice at least through May 28, 2020. May 29, 2020, is the first Friday of our summer work schedule and is a campus closure day.
All classes this summer will be on line except possibly some make up classes.
The daily work schedule for summer semester has not been determined at this time. Therefore, the utilization of student workers this summer cannot be determined at this time. Decisions relative to summer employee schedules and student workers will be made as quickly as possible.
In the meantime, stay off-campus as much as possible and stay safe.
Ron House, Ph.D.
President
---
April 9, 2020
I appreciate the patience that all of you have shown during this most unusual situation. I know you are sometimes looking for answers that seem to be slow in coming. Keep in mind that nobody expected this pandemic, so we are all searching for answers at the same time. Be patient, the answers are coming.
Summer Semester
Summer semester will be entirely on line. As the summer progresses, there may be an opportunity to modify some courses, but we are not planning for that. We are planning for all instruction to be on line for summer semester. There will be additional detailed information forthcoming as we get closer to summer semester beginning. Summer semester is scheduled to begin on June 8, 2020.
Grading
I know many of you are concerned about course grades. Our overriding concern is that students must be treated fairly and that no penalty should be realized for a situation that no one had any control over.
Vice President Pecord and her staff have developed a plan that complies with our desire not to penalize students. If you don't understand it or need clarification, ask all the questions you have.
John A. Logan College Pass/Fail Grade Option
Faculty will submit final grades, as usual, by Tuesday, May 19, 2020.
Students will be able to see their letter grades and then choose to opt for a pass/fail grade online. This opportunity will be available starting Wednesday, May 20, 2020, through Monday, August 31, 2020.

The Admission and Records Office will provide students with additional details about the process for requesting the pass/fail option by the end of the semester.

Students will be able to select the pass/fail option on a course-by-course basis.

If students select the pass/fail grade option, a Pass grade will be substituted for the A, B, C or D letter grade.
The Pass grade for a course will not be calculated into a student's GPA, although the credits completed in the course will be counted for progression towards a degree.
If students opt for a Pass/Fail grade, your Spring 2020 transcript will include this information "Grades of Pass/Fail permitted in Spring 2020 in response to COVID-19 global pandemic."
If students select the Pass/Fail option and later want to reverse their decision, contact the Admissions and Records Office by end of Fall 2020 semester.

The deadline to withdraw from Spring 2020 courses has been extended through Friday, May 15, 2020.
Students who were on academic probation at the end of Fall 2019 will not face academic suspension due to Spring 2020 grades; academic probation will be extended into Fall 2020.
Students who received an incomplete grade in Fall 2019 and those who may receive an incomplete grade for Spring 2020 will have one year (instead of one semester) to complete the work.
Selecting a pass/fail grade may impact "satisfactory academic progress" for financial aid, eligibility for scholarships, certifications/licensures, and transferring to other institutions. Consult the Financial Aid Office and/or an academic advisor before making the decision to opt for a pass/fail grade.
Students who choose a pass/fail grade in a course that serves as a prerequisite for another course will need instructor consent to enroll in the subsequent course.
Students who choose a pass/fail grade in a course that is within an accredited or professionally regulated program will need instructor consent to enroll in subsequent program courses.
Please contact your academic advisors and academic programs with questions.
No changes to Spring 2020 grades will be made after December 18, 2020, with the exception of incompletes.
Coming to Campus
There are too many people coming to campus. I get a daily report from security letting me know who and how many are coming to campus. An average day is about 40. If I can adjust to a computer and cell phone, most of you can too. Many campuses, some much larger than Logan, are conducting business with 12 people or less which includes security.
There are roughly 50 positive COVID-19 tests in Logan's district and many more who have not even been tested. It is for your safety, your family's safety, and the safety of everyone you come in contact with that we are working remotely. You must work remotely more. If the number of people on campus remains high, there will be restrictions placed on people entering campus. I don't want to have to implement those restrictions, but I will do whatever I have to do to keep us safe.
Ron House, Ph.D.
President
---
April 1, 2020
In acccorandance with Governor Pritzker's Executive Orders directing everyone to stay at home and practice social distancing, the following practices and procedures will be adhered to through the end of spring semester 2020:
The College will continue the current schedule of online instructional delivery through the end of spring semester. There will be no face to face classes.
All previous directives including those pertaining to travel, closure of the Logan Fitness Center, and suspension of Community Education classes and other work related procedures will continue through the end of spring semester.
All events scheduled at the College, regardless of participant numbers, are cancelled through May 15, 2020. The students, faculty and staff who have earned an award will receive the award.
Additional details will be forthcoming regarding awards. Cancelled events will include:
Honor's Night
Retirement and Service Awards
National Society of Leadership & Success Reception
Trio Spotlight Ceremony
ADN/LPN Pinining Ceremonies
Both Commencement Ceremonies
Offices are closed to the public. ALL STAFF WILL CONTINUE TO WORK REMOTELY AWAY FROM CAMPUS EXCEPT AS DIRECTED. This practice is for your safety.
Information will be forthcoming relative to refunds, grades, registration for summer and fall semester, withdrawing from class, completing lab classes and other specific interests and concerns as guidelines and procedures are developed. Be patient. Give the staff time to prepare them. The College is waiting for State directives pertaining to some of these issues.
All of these and previous directives are being issued for the sole purpose of keeping everyone as safe as possible. This is a very serious health situation. Since previous announcements, several people in Logan's district have tested positive for the coronavirus. The number of positive cases will increase. We all should become more concerned about the well being of our family, friends and neighbors. Do not become complacent by thinking this disease is far away. It is not. It is here. Please, act appropriately to ensure your safety and the safety of others.
Ron House, Ph.D.
President
---
March 20, 2020
Pursuant to the Governor's announcement made on March 20, 2020, for all people in Illinois to stay at home, the following action is being taken.
Effective immediately, the following directives will be initiated. The suspension of services on campus will be considered Campus Closure days. Everyone will be paid even if you are not working. If you work, your pay will be determined by your contractual agreement with the College. The Business Office will put out a statement regarding time clock requirements.
During the suspension of services on campus, a very small number of employees may be assigned to work. You will be notified by your supervisor if you are to work. Entrance to the building will be limited to the west entrance (Bell Tower) and the east entrance (Coffee Shop). Only administrative staff and those assigned to work by administrative staff will be allowed to enter. Anyone who enters the building must notify Campus Police at 8218.
Online instruction will continue. Instruction will be supported by IT and Administration remotely.
During this suspension of services, be smart. The purpose of the suspension of services on campus is to reduce exposure to the virus. Reducing exposure away from work is your responsibility. Reducing exposure can best be accomplished at home and staying away from people.
Ron House, Ph.D.
President
---
March 20, 2020
Pursuant to the Governor's announcement made on March 20, 2020 for all people in Illinois to stay at home, the following action is being taken.
The responsibility of John A. Logan College is to ensure the highest level of safety and wellbeing for the students, faculty, and staff. Out of an abundance of caution, all services provided by the College will be provided remotely, effective Saturday, March 21, 2020, at 5:00 p.m. A future statement will be made pertaining to the resumption of services.
During this time, only online instruction will continue uninterrupted; however, the campus will be closed to the public. Additional statements will be made as information becomes available.
Ron House, Ph.D.
President
---
March 18, 2020
Students,
There are several questions surrounding how COVID-19 will impact your courses this semester. We understand your concerns and are doing our very best to address them. We are currently waiting for clarification from our governing body, the Illinois Community College Board (ICCB), and the U.S. Department of Education to provide guidance to us on how to proceed.
In an attempt to provide guidance to you, here are answers to a few common questions:
Q: How do I complete my coursework online if I do not have a computer or Internet accessibility?
A: Contact your instructor to make them aware of your situation. They will use this information to advise you on the best course of action once the College receives guidance from ICCB and the federal government.
Q: How do I complete the labs required for my courses?
A: Check your D2L course site for information from your instructor. Each course will be handled on an individual basis, and information will be provided. Online instruction is scheduled to begin Monday, March 23rd, so your courses will all be active on D2L by that date.
Q: If I am concerned that I will not be successful this semester, should I withdraw from my courses now?
A: While we understand your concerns, the College's current recommendation is to wait until we receive all of information regarding the spring semester. The College will work with all students to ensure the best possible outcome given your specific situation.
Please know that you are our first priority. We are doing everything we can to navigate this crisis. Continue to check your Volmail for updates on the developing situation.
---
March 18, 2020
I want to take this opportunity to share some information with you. I first want to remind you of why all of these changes are being made. We are in the middle of a State and National emergency. The Coronavirus is spreading rapidly around the world and across Illinois. Everything we are doing is designed to help slow the transmission of the virus. To my knowledge, there have been no positive cases reported in southern Illinois. That may very well change.
Keep in mind when you pose a question, that the administration is waiting for answers too. So, if someone tells you we are waiting to hear from the Federal or State agencies, it is true. We will keep you informed of relevant information as we receive it.
There are some things we can tell you. Even though some of the bullet points below do not have a complete answer, they will certainly give you an idea of where we are headed. What is true today may very well be untrue tomorrow. The situation is changing hourly.
The bullet points below may help clarify some of your concerns. Some of the points are reminders from previous announcements. Please read all of them.
No later than Monday, March 23, 2020, the College will implement a work plan for the sole purpose of reducing the number of employees on campus, and therefore, reducing the possibility of transferring the virus if it exists here. Your supervisor will inform you of your work location no later than Monday, March 23. Work location assignments will be made in the most fair and equitable manner possible. Some people will be assigned to work from home. Some will be scheduled to home with or without work to do. Everyone will receive regular pay, whether they are working at home or assigned to be home. Timeclock employees assigned to home will enter this time using the appropriate job code when they return to work on campus.
All classes will go online Monday, March 23. There will be no classes on campus. We realize this is difficult or impossible for some classes. As time goes on, creative solutions that enable students to receive credit for their work, along with skills needed to succeed in the workplace, will be developed. Arrangements for completing these classes will be made in the future. Give us time.
The Learning Lab will be closed Monday, March 23, and until further notice.
The Library is closed, and will be closed until further notice.
No student tests, of any kind, will be given by the Testing Center until further notice.
Computer labs will not be available to students.
Entry points into the buildings will be reduced and monitored to ensure only authorized people are allowed in the buildings.
Spring semester is not being extended at the point.
If you are sick, stay home. You will not be charged leave time if you are getting tested, test positive, or are advised by a doctor to quarantine for a period of time whether you test positive or not. If you are sick with an ordinary illness, you will be charged sick time or other leave time.
The custodial staff will increase efforts to ensure that the building will be as sanitary as possible. High touchpoints will be given extra attention.
The last day for student workers to work on campus will be Friday, March 20. They will be paid through the end of the semester. Student workers will resume when the College returns to a regular schedule.
The College is open, not closed.
There will be no approved travel outside the district.
Everyone is encouraged to work electronically on campus. Meetings, ordinary communication, and planning electronically, reduces exposure.
These are hard times for all of us. This type of situation has never occurred on such a large scale in the history of community colleges. Be patient. In time, all questions will be answered. Above all be professional. Lend a hand to those in need. Answer the phone. Help us keep our offices open and deliver the services that make us a college. This is an emergency. Please perform as you would in any other emergency.
Thank you.
Ron House, Ph.D.
President
---
March 17, 2020
John A. Logan College continues to monitor the situation with COVID-19. We want to remind students that during the period of March 16 – 20, 2020, spring break is extended. Faculty are using this time to move and prepare all courses for online. On March 23, all courses at John A. Logan College will be delivered online. Check your JALC email and D2L for relevant information from your instructor. We ask for your patience while instructors prepare for this change.
In order to protect the health and safety of students and College employees, we want to encourage the use of phone communication and email to exchange information.
Ron House, Ph.D.
President
---
March 17, 2020
NOTICE OF CANCELLATION OF REGULAR MEETING OF THE JOHN A. LOGAN COLLEGE BOARD OF TRUSTEES
William J. Kilquist, Chair of the John A. Logan College Board of Trustees, has announced that the regular meeting of the Board of Trustees, Community College District No. 530, originally scheduled for Tuesday, March 24, 2020, at 7:00 p.m., has been CANCELLED in a continued effort to align with State and Federal closures concerning COVID-19. The next regular meeting of the Board of Trustees is scheduled for April 21, 2020.
---
March 16, 2020
In a continued effort to align with State and Federal recommendations concerning the COVID-19, John A. Logan College is initiating the following changes in addition to the Friday, March 13, College statement regarding campus directives.
Effective March 17, 2020, all Adult Education classes will be suspended through March 30, 2020, by order of the State.
Effective March 17, 2020, Logan Fitness Center will be closed until further notice. The SIH walk-in clinic located in the CHEC building (Logan Fitness) is open.
Effective March 17, 2020, all Community Education classes will be cancelled until the end of the spring 2020 semester.
Effective March 17, 2020, through April 30, 2020, all events scheduled at the College, regardless of participant numbers, will be cancelled.
Effective March 17, 2020, all Workforce Development classes and trainings will be suspended until further notice.
Additional notifications will be forthcoming.
Ron House, Ph.D.
President
---
March 13, 2020
In an effort to contain the spread of COVID-19 outbreak, John A. Logan College is working closely with local and state public health agencies to take the necessary precautions to address the viral threat to our College and district communities. We also follow regular updates from the Illinois Department of Health (IDPH), the World Health Organization (WHO), and the Centers for Disease Control (CDC).
While no cases of COVID-19 have been reported in our district, we want to create a balance between preparedness and caution. Therefore, we will be taking additional steps to reduce the possibility of COVID-19 transmission to our campus and community. The College will implement the following plan:
Spring Break will be extended to March 23, 2020.
Beginning Monday, March 23, and until further notice, the College will hold all classes and related coursework online.
The College is not closed, and all services and offices will remain open.
All staff are expected to report to work as usual and fulfill their job responsibilities.
Students should monitor volmail and the College website for the latest updates. Information will be provided on how students will move forward with online delivery. Individual class information will be posted in the Learning Management Platform (D2L) when online delivery begins.
College-related travel for faculty, staff, and students will be limited to within the College district.
The College and community schedule of events is being reviewed, and additional information on the use of College facilities will be forthcoming.
Logan Fitness will remain open until further notice.
All official College communication relative to COVID-19 will be made through the College website www.jalc.edu
Ron House, Ph.D.
President